Marple Today
Walks around Marple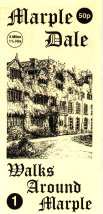 Published by Marple Local History Society
This publication is now OUT OF STOCK
However they may be seen online on the Marple Uk website.
Six easy walks in the Marple area, each with a separate sketch map showing the route and points of interest.
Thanks must be given to Gordon Mills, who passed away in December 2006, for leaving such a legacy of fantastic local publications, and to his widow, who has agreed to continue the free distribution of the walks.