Have you found Marple's Hidden Gem yet? Maybe you have walked past it, or by it many times without realising it
The gem is St. Martin's Church, Low Marple on Brabyns Brow, next to Marple Station. This church, quite modest from the outside has many wonderful windows and artefacts designed and made by eminent artists and architects.
In 1866 Ann Hudson inherited Brabyns Hall. She decided to have a church built nearby and chose an upcoming young architect, John Dando Sedding to draw up plans in the Gothic style. Sedding commissioned the William Morris firm – a group of artists in the Arts and Crafts Movement – including Gabriel Dante Rossetti, Edward Burne-Jones and Ford Madox Brown, to design stained glass windows. St. Martin's was founded in 1867.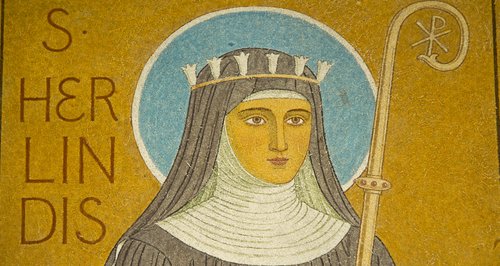 Friday/Saturday/Sunday 14th/15th/16th September We will open for the National Heritage Open Weekend. The theme this year is "Women of Significance" marking the 100th Anniversary of the passing of The Representation of The People Act 1918 starting the process under which women became eligible to vote on an equal footing with men. We owe our existence at St Martin's, and our rich artistic and architectural heritage, to our own 3 "Women of Significance" : Ann, Maria Anne and Fanny Marion Hudson so we will have plenty to celebrate later this year. Further details will be posted here as we finalise our programme for the weekend.
We also hope to be able to arrange a further event to follow on from our successful Arts and Heritage weekend last November.
For more details please see below or use the Contact page or telephone 0161 449 5299.
Friday 14th Talk about Hildegard Von Bingen by Dr Geoff Brammall
Saturday 15th Doors open 10am
11am Talk & Walk with Judith Wilshaw 2pm
Hear the Father Willis organ
2-4pm Children can dress in period costumes plus other activities
Sunday 16th Doors open 12 noon Hear the Father Willis organ

Tours available throughout Saturday & Sunday Exhibitions throughout the weekend