Have you found Marple's Hidden Gem yet? Maybe you have walked past it, or by it many times without realising it
The gem is St. Martin's Church, Low Marple on Brabyns Brow, next to Marple Station. This church, quite modest from the outside has many wonderful windows and artefacts designed and made by eminent artists and architects.
In 1866 Ann Hudson inherited Brabyns Hall. She decided to have a church built nearby and chose an upcoming young architect, John Dando Sedding to draw up plans in the Gothic style. Sedding commissioned the William Morris firm – a group of artists in the Arts and Crafts Movement – including Gabriel Dante Rossetti, Edward Burne-Jones and Ford Madox Brown, to design stained glass windows. St. Martin's was founded in 1867.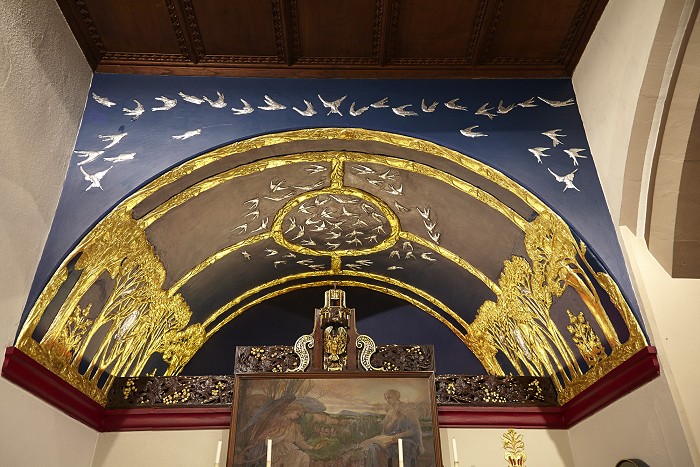 The Lady Chapel, St. Martins', Low Marple
(information received via email)
So far as this year is concerned, last week the Trustees finalised the programme of events for Spring/Autumn 2020 which we have designated our Year of William Morris in recognition of his contribution to the enduring heritage of the Church in this 150th Anniversary year.
The programme outline is as follows:
Saturday 14th March 1400-1630 Getting to know William Morris One of our very popular study sessions with afternoon tea featuring a number of speakers covering various aspects of the life and work of William Morris. Further details can be found here
https://www.stmartinsheritagetrust.org.uk/news-events/55-getting-to-know-william-morris.html
Admission including tea is £10 per person, £8 for Friends
Friday 17th April 1930 Morris stained glass: Changing styles 1861-1940 A lecture by Anthony Burton in preparation for the trip below. Admission with light refreshment £6 per person, £5 for Friends
Monday 4th May 2020 (Please note this is not the early May Bank Holiday this year) Day Trip to see Morris Glass led by Antony Burton, visiting Darley Dale, Youlgreave and Macclesfield. By minibus leaving Marple at 0930 returning at 1700 approx. Cost to be advised nearer the time.
Thursday 18th June 2020 1930 "The tears wept by our windows" - Restoring Victorian Stained Glass. A lecture by Alison Gilchrist, conservator at Barley Studios, York. Barley Studios are internationally renowned stained glass conservators/restorers and have produced a detailed report which underpins all our work on cleaning, conserving and restoring the stained glass within the church. Admission including light refreshments £6 per person, £5 for Friends.
Our Autumn programme will feature
1 Date to be confirmed A further Study Afternoon looking in more detail at William Morris's literary output-his poetry and romantic literature
2 Friday 18th-Saturday 19th September We will be open again this year for Heritage Open Days. The theme this year is "Hidden Nature". Visitors to Church will know that this is one of the cornerstones of the Arts and Crafts Movement and that the Church is particularly rich in natural themes-we will be exploring these themes and making the hidden somewhat more accessible. Further details as we develop the range of activities and events over the 2 days.
3 11 November 2020 The church was consecrated this day on 1870 (St Martin's day) and we are planning a range of appropriate events to mark the occasion. Further details later.
We will be opening church again on Saturday mornings from 1030-1230 from Saturday 4th April
As you can see, a busy year! If you would like to become more involved with the Friends through volunteering to help out stewarding at an event or Saturday morning, or indeed would consider becoming a Trustee to help guide the Trust through this year and beyond, do please contact me or any of my fellow Trustees-you will be very welcome.
Finally you will notice that we continue to operate a differential pricing structure for Friends and visitors at our events so, in my role as Treasurer, it would be remiss of me not to mention to those Friends who pay subscriptions other than by standing order that subscriptions for 2020 are now due. If you would consider paying by standing order please let me know by replying to this email and I will send the form to you. Otherwise please remit £10 individual or £15 household to the Trust c/o St Martin's Church. Thank you.
Kind regards
Michael Newton