Welcome to the Marple Local History Society website
Visit the online Society Archives here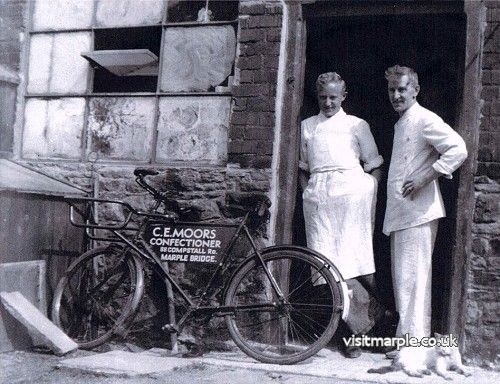 Charles Moors and son Alan outside their old bake house at 88 Compstall Road, Marple Bridge. Provided by grandson, Kevin Moors.
Next Meeting
Monday 15th Ocober:

'What to do with 323 Postcards?' -
Julie Bagnall
Summer Newsletter 2018
"......Local matters – can you help?
Life Leisure Marple (or Marple Baths as everyone knows it) has closed because of "some infrastructure issues." We have been assured that it will reopen for swimming as soon as possible but "During survey works, a number of issues of compliance with current regulations for swimming pools have been identified." The current date for reopening is the end of January 2019 but many wonder if the council will take the opportunity to close the facility completely. However, whatever the future might hold, it would seem opportune to compile some memories of the Baths from local residents.
Please let us have any memories you might have from any era - the earlier the better. We don't want a long, beautifully written essay - just one or two sentences that will jog people's memories and help to build a picture of what the Baths meant to the people of Marple.
Just send your thoughts and recollections to This email address is being protected from spambots. You need JavaScript enabled to view it. or have a word with the chairman at the next meeting and we will build them into a collective memory for the community and our children."
read the full newsletter here
William Henry Chadwick – a 19th century local lad who made a name for himself
This story is a result of researching the history of the above in response to a request from Christopher White, from Romiley, who now lives in France. William Henry was his gt gt grandfather.
William (not Henry then) was born in 1829, son of Jeremiah Chadwick (from Marple) and his wife, Rachel (nee Prosser). The family lived in Compstall Bridge but the children were baptized in Marple Bridge.
During his childhood William would become increasingly aware of Chartism, the working class movement for political reform which presented petitions to the House of Commons, signed by thousands of people. In the North West of England industrialisation had led to terrible conditions and poor pay in mills and factories –even children could be working a 12 hour day.