Welcome to the Marple Local History Society website
Visit the online Society Archives here
Next Meeting, 19th March: 'Woodsmoor, The Story' - Sue Bailey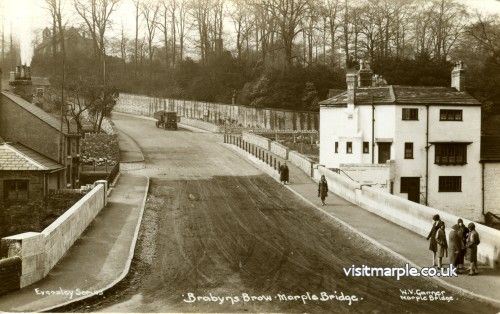 A great shot of the wall around Brabyns Estate looking up Brabyns Brow from Marple Bridge. The postmark is hard to make out but looks like 1930.
Marple Bridge Past and Present
In 1991 an exhibition was held in the upstairs hall of the old Sunday School building on Town Street to celebrate the rebuilding of the river wall, now flats, doctors and dentists surgeries. The river wall had collapsed in 1991, leading to closure of Town Street for a year.
For centuries the area east of the River Goyt now called Marple Bridge was part of the township of Ludworth in the Hundred of the High Peak in the county of Derbyshire.
click...Marple Bridge Past and Present..to read the full story
Marple Local History Society's Exhibition: March 3rd to 10th 2018
Marple Local History Society's exhibition "From cripples holiday home to orthopaedic hospital" at Marple Library will be formally opened by the Mayor of Stockport on Saturday, 3rd March 10.30. a.m. - 12.00 noon. The exhibition will then run from 3rd to 10th March during normal library open hours.
Formed in 1897, the Band of Kindness and Children's Help Society encouraged children to be kind to animals and in turn their fellow citizens. In 1903 respite care was provided, with the charity renting a house at Peacefield, Marple. This was the start of a long association with Marple which resulted in the building of a country nursing home on Dale Road that eventually became the children's hospital and later "Tree Tops".
Working with Disabled Living, this exhibition tells not only the story of Marple's contribution but also how a small Manchester based charity has developed into a national provider of practical solutions supporting disabled adults, children and older people.
For a fascinating introduction to the subject visit the "Tree Tops" Album on the Virtual History Tour.