Welcome to the Marple Local History Society website
Visit the online Society Archives here

A busy view of Town Street, Marple Bridge. Heading for the Roman Lakes?
Next Meeting : September 17th

Elswhere: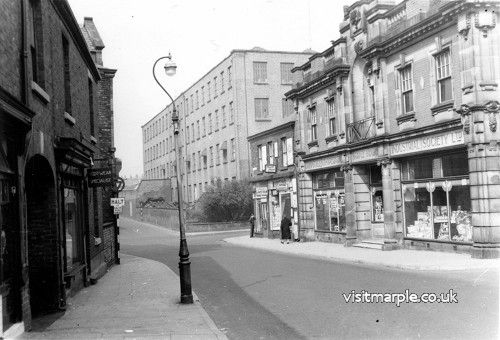 Transcript from cassette entitled: Mrs Courtney
Mrs. Courtney made her tape when she was living at Thornsett, but had spent all her life in Marple, and her working life at Hollins Mill.
Voice: Mrs Courtney tells the story of a half timer.
I was one of a large family, thirteen in number, and my earliest remembrance is the cottage meetings in the house, a preacher coming to talk to us and mother making the cake and a cup of tea for the people. The preacher talked to the people and then he read the bible and a prayer. My sister, twenty years older than me, worked at Hollins Mill. She was 8 years old and they had to stand her on a stool, she was so small. If the inspector came round they had to hide her. And what about the other now? My sister was full of humour. She got teased with the boy and she kicked the stool from under him. Then there was the man over there. He annoyed her one day and she let him go down the hoist half way and stopped him until someone else released him. I myself went half- time at work.