Welcome to the Marple Local History Society website
Visit the online Society Archives here
Oldknow's apprentices re-enactment
> >
When Samuel Oldknow employed apprentices at Mellor Mill he cared for their spiritual welfare by accompanying them to Church twice every Sunday. He even built 'pee stones' for boys to relieve themselves behind on their way! Here, as part of the Revealing Oldknow's Legacy project, supported by the Heritage Lottery Fund, All Saints' Primary School in Marple re-enact this walk to All Saints' Church.
Read.......MLHS take All Saints for a walk
Next Meeting: Monday 19th November: 'A 1920s Bleaching, Dyeing and Weaving Mill' - Judith Atkinson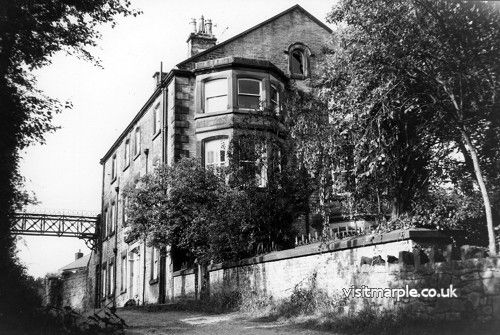 If walls could talk
Many of you will recognise this imposing stone house, Beechwood, which is at the top of Lakes Road leading down to the Roman Lakes. However, why was such a fine house built so near to Oldknow's workers cottages at Stone Row and who lived in it? Documents in the Archives and the census returns can answer some of these questions and provide a fascinating insight into the lives of those who lived there over one hundred years ago.