Archive stories of places
Stories from the archives linked mainly to places and buildings of Marple and District.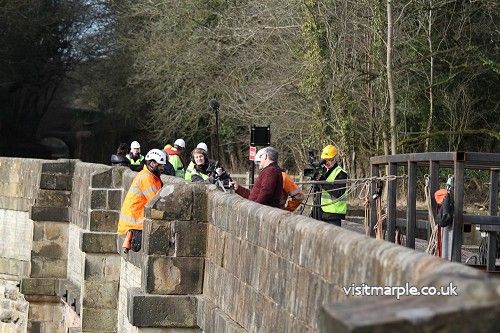 BBC and Granda TV visit Marple Aqueduct 17 February 2015
This article was written by Mark Whittaker in 2000. The Society would like to thank Mark for his kind permission to 'reprint' his work here.
It is taken from the History & Heritage page on...
http://www.marple-uk.com/heritage
Without fanfare or celebration a major anniversary has quietly been reached in Marple this Millennium year. A milestone that would have most towns hanging out the flags and bunting has barely been acknowledged in the local community. The achievement is all the more significant because it would not have happened without strong public support many years ago, so it is ironic that it appears to be passing almost unnoticed now.
Category: Places
Hits: 7393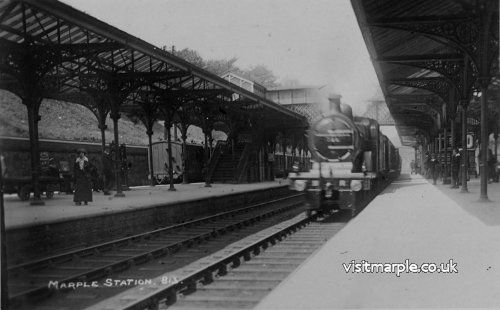 A story of a strange things going on, one night, at Marple Station
In 1908 the station had extensive station buildings - the Midland waiting room having upholstered seats and a coal fire in an attractive fireplace for cold winter days. The change from a main line to suburban station had begun with an increase in residential traffic to Manchester, compared with ten years previously. This spurred on the building of new houses in the area, with fine residences for the well-off Manchester commuters being developed in Ley Hey Park, near the station, and other areas.

Category: Places
Hits: 6590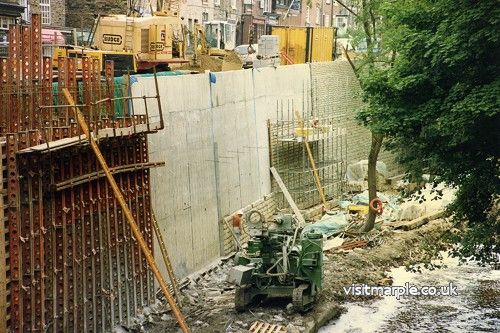 Town Street repairs in progress during 1992
In 1993 an exhibition was held in the upstairs hall of the old Sunday School building on Town Street, now flats on the upper floors, with doctor's and dentist's surgeries on the ground floor, to celebrate the rebuilding of the river wall. The river wall had collapsed in 1991, leading to closure of Town Street for a year.
For centuries the area east of the River Goyt now called Marple Bridge was part of the township of Ludworth in the Hundred of the High Peak in the county of Derbyshire.
Category: Places
Hits: 24513
An exhibition was held at The Reading Room, Hawk Green,between September 20th – 27th 1998 and at Marple Library September 28th – 3rd October 1998.
This forms the source of the article
Category: Places
Hits: 15563