Archive stories of places
Stories from the archives linked mainly to places and buildings of Marple and District.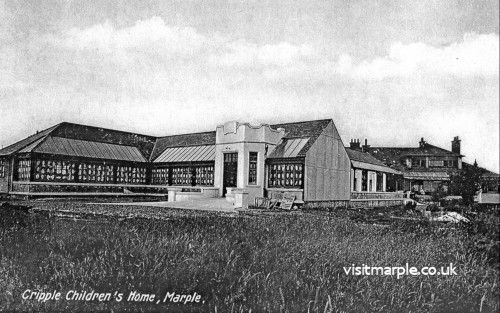 In 1912 a number of local dignitaries gathered to view the opening of the hospital known at that time as the Crippled Children's Nursing Home on Dale Road, Marple. Earlier that year the first sod had been ceremonially cut and on 27th July four foundation stones were laid. This was the start of a success story and the need for beds soon exceeded those for the 15 boys and 15 girls originally provided. A large, architect designed extension was built and on 4th October 1930 a fifth foundation stone was laid by John Howson Ray, MB, ChM, FRCS.
Category: Places
Hits: 332
Read more: Foundation Stones – Treetops Close, Dale Road, Marple
I am intrigued by these two photographs of a cricket bat, which were given to the Society a few days ago by Andrew Mather who owns the bat.
Cricket has been a popular sport in the area from the 19th century, with village clubs in Compstall, Hawk Green, High Lane, Marple and Mellor.
However, I have never heard or seen any reference to Brabins Cricket Club. Perhaps the club was sponsored by the Hudson family at Brabyns Hall - certainly, permission from the family would have been needed if matches were held in the hall grounds.
Category: Places
Hits: 3356