Welcome to the Marple Local History Society website
Visit the online Society Archives here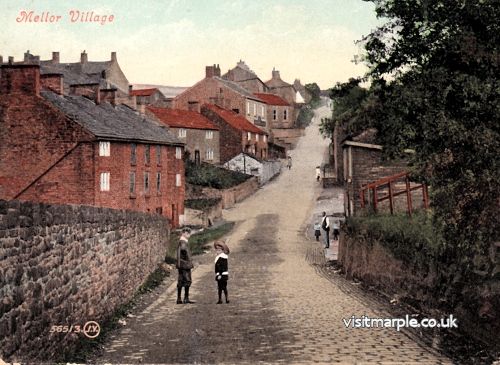 Mellor Village -A hand-coloured version of a Mellor Village postcard
[Provided by Janet Holmes]
Looking to the future
You will not be surprised to learn that we have been monitoring the Covid-19 situation carefully with regard to our activities. Although the pandemic has eased considerably there is still a need to be vigilant and to limit social activity.
Consequently we have decided to cancel all meetings for the rest of this year, September to December. We will review the programme for 2021 nearer the time.
All memberships will be carried forward to next season but if there is any change in your circumstances or contact details please let the Membership Secretary know at This email address is being protected from spambots. You need JavaScript enabled to view it.
We will be continuing with our monthly newsletter and adding to the website so if anyone would like to contribute a short item for either it would be very welcome.
Hilary Atkinson, Chairman - [28th August 2020]
When Britain entered the First World War in August 1914 the Chief Scout Sir Robert Baden Powell urged Scouts to get involved to support the war effort, not as combatants but rather filling useful roles at home thereby freeing men to enlist and go to the Front. His appeal was backed up by a poster campaign reinforcing the message of service, as can be seen in the example below. Thousands of boys and young men answered the call, with many joining the Scouts for the first time in the Autumn of 1914. One such local man who did so was Joe Braddock, who lived with his family in Stockport Road. Joe's name will already be known to many local people through the researches of Peter Clarke and former colleagues, who have given details of all the Marple servicemen killed in the First War in their book Remembered, published in 1999. During his research, Peter was given a pocket Scouts' Diary belonging to Joe Braddock which he has kindly donated to the Marple Local History Archive. The Diary forms the basis of the present article.