Welcome to the Marple Local History Society website
Visit the online Society Archives here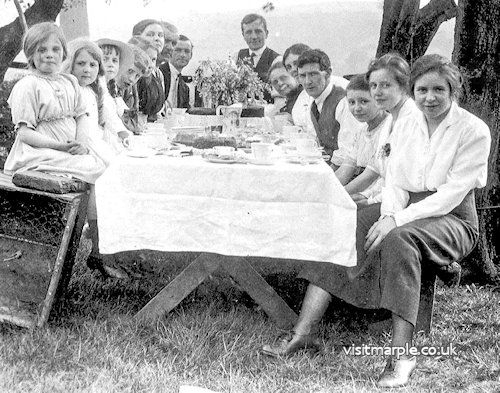 The Richardson family picnic taken at Greenclough Farm Strines sometime early 1900s. Provided by Graham Meakin, who says "This photo was recovered from a glass plate some time ago. My grandfather, Joel, is at top left head of the table next to his father Charles, and his brother Thomas to his left.
Click to compare this to the photo of the same location in 2014.
Nigel Linge – The Red Box – the history, evolution and future of the phonebox

Coming soon !
Marple Wharf Project
OPEN AFTERNOON AT THE WHARF WAREHOUSE - SATURDAY 29TH FEBRUARY FROM 1PM TO 4PM.
Come along to our next Open Afternoon and see for yourself this historic building. Bob Humphrey Taylor will be on hand to explain why The Wharf is so important to Marple's Heritage and relating its history and its place in the industrial revolution in Marple.
Other Wharf CIC Directors will also be available to answer any questions you may have on the project.
Railways of Great Britain
MLHS member, Ian Moss is giving a series of 6 slide illustrated lectures on 'Railways of Great Britain' on Wednesdays at 1.30.p.m. at Marple Dale Care Centre. These begin on the 4th March. All are welcome, free with a collection for The Children's Society, no need to book
Marple Probus : Marple and District Probus Club invites you to come to one of our meetings and see if you might like to join.
More details of Meetings etc on this pdf Marple Probus 2020
Featured Article

(Rose Brow, Compstall in 1880)
William Henry Chadwick – a 19th century local lad who made a name for himself
This story is a result of researching the history of the above in response to a request from Christopher White, from Romiley, who now lives in France. William Henry was his gt gt gt grandfather.
William (not Henry then) was born in 1829, son of Jeremiah Chadwick (from Marple) and his wife, Rachel (nee Prosser). The family lived in Compstall Bridge but the children were baptized in Marple Bridge.
During his childhood WWill chadilliam would become increasingly aware of Chartism, the working class movement for political reform which presented petitions to the House of Commons, signed by thousands of people. In the North West of England industrialisation had led to terrible conditions and poor pay in mills and factories –even children could be working a 12 hour day.