Videos
> >
Warship Weeks were held across Britain in 1941 and were vital fundraisers for the Government. The story of how Marple came to adopt minesweeper HMS Maple was lost to memory until one phone call brought events back to the surface. Leslie Howard and Noel Coward help to explain and we see how a new community effort has restored an important piece of history to pride of place.
HMS Maple - Marple's own minesweeper
75 years after the citizens of Marple raised £75,000 to adopt HMS Maple, the plaque commemorating this feat has been placed in Marple Memorial Park, near to the War Memorial. The plaque was acquired by Bernard Mifflin, local resident and art teacher at The Willows School and spent over 30 years in his garden. It has been donated to MLHS by his niece, Julie Clay.
Wars are expensive, and the government needed more money than could be raised by taxation. As a result it asked the people to lend money in various ways that would be repaid after the war. Persuading people to invest was not easy and the government used local savings campaigns, advertisements and posters to appeal to patriotic instincts. In particular, communities were encouraged to compete against each other to raise the most money. These National Savings Campaigns were usually for a one-week period and went under titles such as War Weapons Week, Wings for Victory or Salute the Solider.
Read More: HMS Maple - Marple's own minesweeper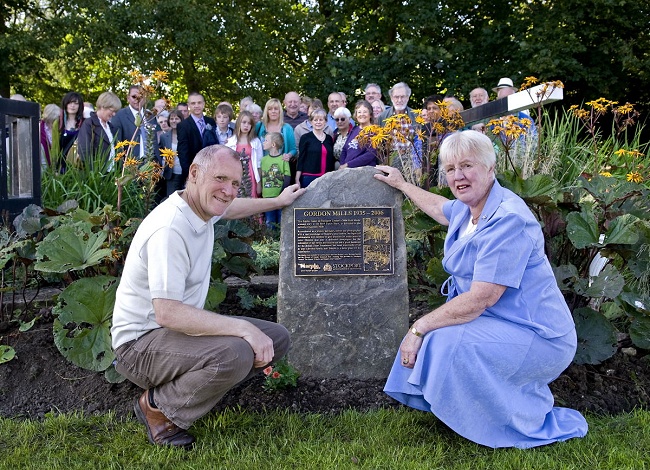 Gordon Mills, yes a printer, but much, much more. Born in 1935, Gordon is remembered in Marple for his vast knowledge of the town's history, for his books, his work both as a publisher and a photographer. His enthusiasm for the restoration of canals and waterways helped in their re-birth. Though, sadly, Gordon died in 2006, he has left publications that will continue to bring pleasure in the years to come.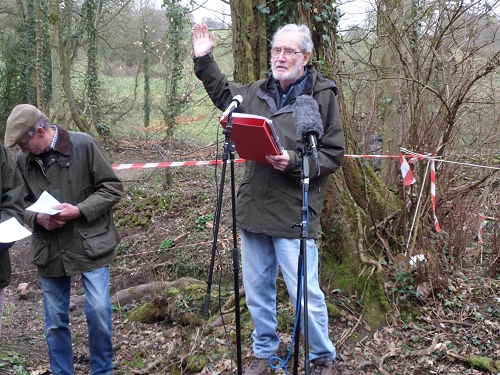 In 1794 the Mellor Mill, Bottoms Mill was opened, six stories, 400feet long, and 33 feet wide the mill was powered by the Wellington Wheel. A breast water wheel 22 feet diameter, 18 feet wide. Power was transferred, from the edge of the wheel to the rest of the mill by vertical shafts. By 1804, 10,080 spindles were operating and up to 550 workers (mainly women and children) were employed. However less than fifteen years later the need arose for a second wheel, and the Waterloo Wheel, was constructed. And in 1860 investement was made in the new form of power, steam, the steam and boiler house.
John Hearle introduces the opening
(photo: Bill Beard)