The Wharf Warehouse Renovation update.
October 5th
Dear Friends and Investors

Renovation work has started!
Since we took possession of the Wharf Warehouse we've been very busy getting ready to start the building renovation work. As you may be aware there are many tasks needed to be done before we can put a spade in the ground, all of which involve our team of specialists, our Architects, Structural Engineer, Quantity Surveyor and construction partner, Viking Build.

Planning conditions and archaeological surveys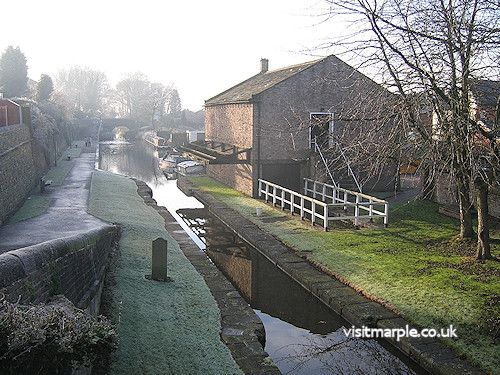 First and foremost, we had to discharge some 14 Planning Conditions associated with granting the Planning Application for SMBC and Heritage England. The Wharf being a Listed building and in a Conservation area, these conditions included a full archaeological survey of the site, provision of a full set of detailed architect designs and samples of all the materials to be used in the renovation of the building.
Archaeologists from Archaeological Research Services undertook a comprehensive Historic Building survey of the warehouse and its surrounding borders. The historic building report provided a descriptive, photographic, and analytical record of the canal warehouse at Marple Wharf, and a comprehensive preservation record of the building. This had to be completed prior to any development work taking place.
Building Design and Costings
Wharf Director, Chris Wallace has led the building design and coordinated the initial costing for the project.
A lot of hard work has been put in by a dedicated design team , who have all donated a significant amount of time, to cover the initial scheme design stage and we thank them all for their continued support.
Design Team
QS/Cost Consultant - Chris Campbell - Chris Campbell Property Services Ltd
Concept Architect - Maurice Shapero - Studio Maurice Shapero
Project Architect - Nick Harden - Edifice Building Consultants Ltd
Heritage Architect - Mark Pearce - Kepczyk Pearce Sanderson
Structural Engineer - Anna Wildman - WML Consulting Ltd
and Principal Designer

The initial design is complete and drawings have been issued to the Local Authority, via the Developer, for discharge of the Planning Conditions.
Detailed design is now in progress.
Our Building Contractor
We have now appointed our Contractor: Viking Build MCR Ltd. Matt Skirvin, the CEO, brings his 15 years' experience in the building industry to our Project. As a bonus Matt brings his knowledge, experience and passion for working on heritage buildings and grant funded construction projects such as ours.
the above photo is linked from Barry and Sandra's Stories & Photography
Update from Matt
"First and foremost we are very excited to get started on this project.
We have been planning the scaffolding as the first noticeable works on site. This will start to go up next week.
We are liaising with the main contractors of the adjacent (separate) local project which will be ongoing at the same time as The Wharf works to arrange the logistical elements of access and storage.
The Beck Homes project is looking at their demolition works at this time and I believe Cheshire demolition will be taking care of these existing buildings around the site.
I have also been in contact with the required material testing companies to look at lead times and requirements for this important element of the project to be booked well in advance to avoid any delays.
The roofing contractors are looking to be on site w/c 24/10/22 and we will have a full site set up by this point.
I am pulling together the final Health and Safety documentation which will be issued and available on site at all times."

So, it's all system go now!
Building Schedule.
The building project has been separated into 3 Phases.
Phase 1 Initial repairs. Comprising mainly roof repairs and high-level repointing.
Phase 2 Main shell works. Comprising the basic building fabric shell works, funded by the secured COF grant
Phase 3 Completion of the works, including most of the heritage work, hopefully funded by the HLF grant
The initial Phase 1 repairs have been instructed under a letter of intent and works have now commenced. You will most likely have seen the hoardings up this week and the scaffolding will be up next week.
The main Design and Build contract is currently being finalised ready for the Phase 2 start.

VOLUNTEERS
As we start the first construction phase there will be tasks and activities for volunteers to get involved in. We are currently working with our construction partners to schedule the volunteer activities and agree dates and times. If you have volunteered to help you will soon receive an invitation to attend our first volunteer working group meeting. If you'd like to volunteer, please contact our Heritage Director, Bob Humphrey Taylor on This email address is being protected from spambots. You need JavaScript enabled to view it..

INVESTMENT FUNDING UPDATE
The Community Investment Scheme will remain open until we have raised the full amount needed to totally renovate and fit out. Supporters are continuing to come forward to invest in the Wharf Marple Project. With our grant funding awards from HLF, McNair Trust, the fundraising activities and COF it totals £400,000 and is clear evidence of community support that is so vital for securing further grant funding we need to complete all the renovations and fit out.

Next steps – we are applying for the final grant funding from HLF to create the Heritage Centre as well as Sport England and other funding bodies.

We're looking forward to seeing you soon.

Yours excitedly,

The Wharf Marple CIC Board