Hibbert Lane owes its name to the local Hibbert family. In 1606 Thomas Hibbert, a local yeoman , bought the title 'Lord of the Manor' from Sir Edward Stanley of Tonge.

81 & 83 Upper Hibbert Lane, Hawk Green (David Burridge, 9th May 2007)
This building, on the east side of Upper Hibbert Lane near the junction with Hawk Green Road, is one of the oldest in Hawk Green. Built as a single structure, it is now two cottages, though originally it was probably three. Two storey cottages such as this are relatively modest by modern standards but at the time they would indicate an owner of some substance - a yeoman or skilled craftsman. As to its age, the initials and date on the door lintel - IBK 1686 - gives us a clue.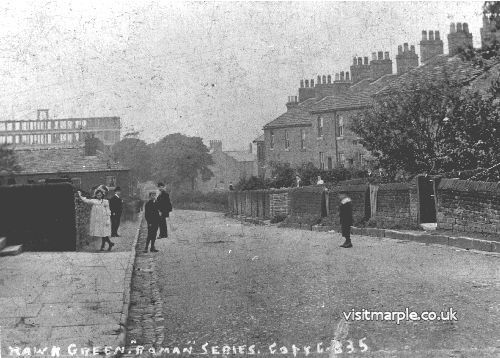 Upper Hibbert Lane about 1904 (note the Goyt Mill under construction in background)
Built in the reign of James II, it would have had no near neighbours. It is typical of that time, using dressed local stone and a graduated stone flag roof. The doors both have stone supports and the larger lintel with the date inscribed is an ovolo moulding.
All front windows are stone mullion in style, four-light in the centre flanked by three-light windows at either side. The mullions are double chamfered and the lintels over the windows are ornate with a hood effect at each end. The rear windows of the houses have had their mullions removed.
The lean-to against the left gable is a later addition.
Words: by Neil Mullineux
Glossary
chamfer - a symmetrical sloping surface at an edge or corner.
dressed - smoothed surface of stone
gable - triangular portion of an end wall between the edges of a sloping roof.
light - opening in a window between mullions through which light enters an interior space
lintel - a horizontal block that spans the space between two supports, usually over an opening such as a window or door.
moulding - an ornamentally shaped outline as an architectural feature
mullion - a vertical bar between the panes of glass in a window.
ovolo - a rounded convex moulding, in cross section a quarter of a circle or ellipse. Origin - mid 17th century: from Italian, diminutive of ovo 'egg', from Latin ovum.
Location: Grid Ref. SJ 95941 87368, On Open Street Map