A human handprint (below) made about 30,000 years ago, on the wall of the Chauvet-Pont-d'Arc Cave in southern France. Somebody tried to say, "I was here!" but of course, with no written language, this person just made his Mark which the cave painters did more artistically. The picture and text are taken from the book "Sapiens" by Yuval Noah Harari. We do not know the sex of this Homo Sapiens person but I am guessing that a man would be more probably engaged in wanting to make his Mark.
At this time our ancestors had developed language and I wonder whether they had their own names. I would like to give our hand printer a name and I have decided on Denis. The Neanderthals and Denisovans were two other human species who have left their DNA mark in Homo Sapiens today. The Denisovans (from the east) are not likely to be represented in our handprint man but I took my choice of a name from them. Just by chance I found that Denis was the first bishop of Paris and is the Patron Saint of France! Then, by another chance, I found that the name Denis is a derivation of Dionysos, the Greek god of wine and revelry - a good name then for a bishop!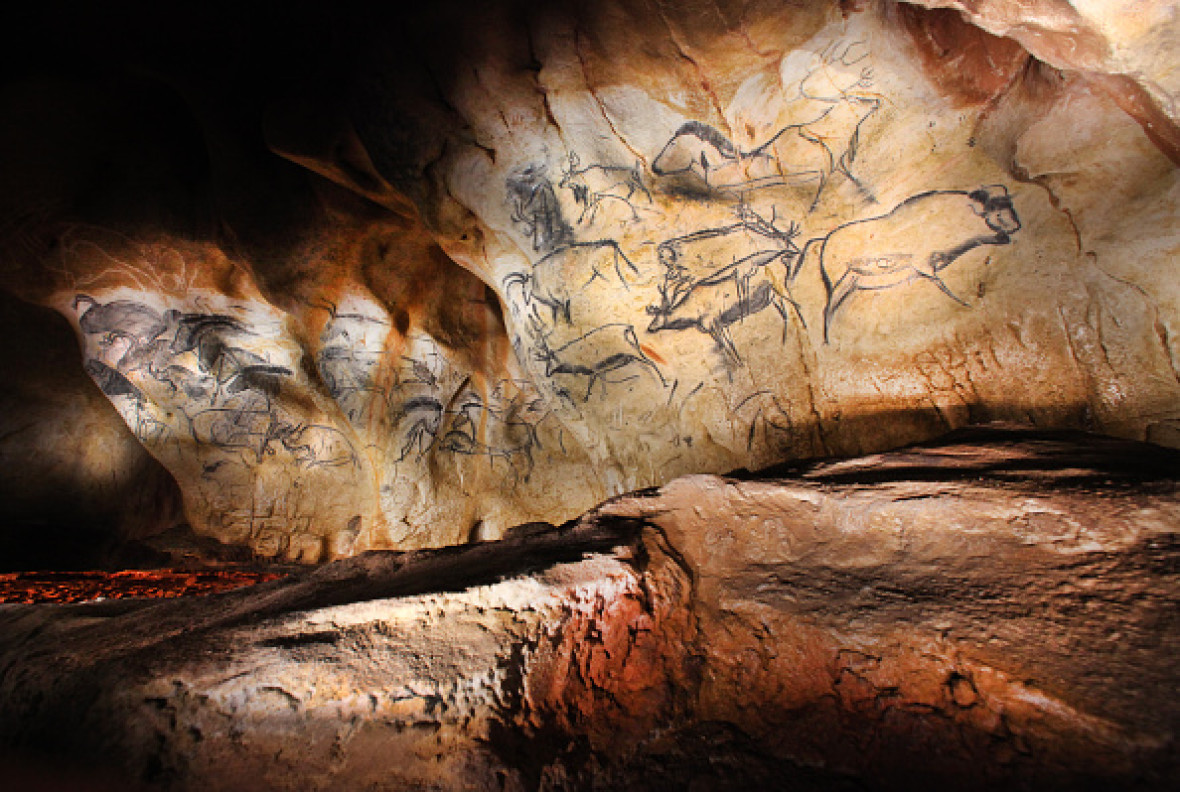 The Chauvet-Pont d'Arc is the oldest-known decorated cave in the world, featuring prehistoric wall paintings, engravings and hand prints. UNESCO classified the cave as a World Heritage site in June 2014.
Harari suggests that language was most likely to have developed from gossiping so I suggest that it would have been the women who maybe had more time to gossip and so have the most influence on the spoken word. They could be spending their time child rearing, cooking and stitching clothes with bone needles, which were available at that time – no time for them to think of making their Mark.
We all make our Mark during life in one way or another but in the distant past the majority left not so much as a handprint. Luckily, today we can access written, photographic and audio records – not all of us of course! With this in mind I shall name a few people who in one way or another have made their Mark in our local area.

At this point we shall leave Denis and travel into our past which for Denis would be a future he would never have envisaged. We will head for Marple but will pause on the way to see a few who made a significant Mark on us in Great Britain in different spheres. I shall generally avoid royalty but will make one exception with our first stop to see what William 1st can offer us. So, "All Aboard the Tardis", hoping someone can press the right button!
RENOWNED
William 1st – 10??-1087
Our first Norman king (known as William the Conqueror), formerly Duke of Normandy. Having made his Mark at the Battle of Hastings (1066) William did what I think of as rather a silly thing. In 1087 he went to Rouen, trying to sort out his sons' arguments and died in the attempt. He was buried in Caen and after various disruptions his remaining physical mark was reduced to a thigh bone.

William the Conqueror and his army entering London in Triumph after the Norman Invasion 1066
William Shakespeare - 1564-1616.
English author, poet, playwright and actor – "Bard of Avon". A big Mark for William for his tremendous effect on the English language without many people realising it. So many phrases to choose from but I have singled out this one, made by the clown in "Twelfth Night" - "Some are born great, some achieve greatness ,and some have greatness thrust upon them". I wonder what Shakespeare attributed his own greatness to!?

The Chandos portrait claimed to be taken from life. Attributed John Taylor c.1610
John Harrison – 1693-1776.
A self-educated English carpenter and clockmaker who invented the marine chronometer H5, a long-sought–after device for solving the problem of calculating longitude while at sea. His solution revolutionised navigation and greatly increased the safety of long-distance sea travel. He finally received recognition and a reward from Parliament when he was 80. – came 39th in BBC2's public poll of the 100 Greatest Briton.
Thomas Paine – 1737-1809.
English-born (at Thetford) American political activist, author of "Age of Reason" and "The Rights of Man". Lesser known was his interest in invention and engineering. His most impressive engineering achievement was the Sunderland Bridge across the river Wear at Wearmouth, 1796 – the second iron bridge ever built and at the time the largest in the world.

Portrait of Thomas Paine, 1791. National Portrait Gallery, London.
Mary Wolstonecraft – 1759-1797.
English writer, philosopher and advocate of women's rights. Wrote "A Vindication of the Rights of Woman" (1791). Until the late 20th century, her life, which encompassed several unconventional personal relationships, received more attention than her writing.

Mary Wollstonecraft by John Opie, c. 1797
Mary was a passionate advocate of educational and social equality for women. She called for the betterment of women's status through such political change as the radical reform of national educational systems. She married William Godwin and their daughter was Mary Shelley who wrote "Frankenstein"
Rosemary Franklin
Rosalind Franklin –1920-1958.
Rosalind was a brilliant crystallographer whose diffraction photograph played a critical role in Watson and Crick's discovery of the double helix. She hasn't always received the recognition she deserves for her DNA discovery. In 1962 James Watson, Francis Crick and Maurice Wilkins received the Nobel Prize for their
Photo 51contribution to the biology of the 20th century. Sadly Rosalind was not eligible as she died too soon in 1958.
Photo 51 The nickname given to an X-ray diffraction image of crystallized DNA taken by Raymond Gosling in May 1952, working as a PhD student under the supervision of Rosalind Franklin, at King's College London in Sir John Randall's group. It was critical evidence in identifying the structure of DNA.

Of course there are many more well-known names deserving a mention in my countrywide search but we were heading for Marple and we have now touched down in the Memorial Park – a fitting place for memories and the search for Marks. The park was donated to the community by the Carver family after WWI. Carver family members were for many years involved as benefactors and philanthropists in the local community. Thomas and Hannah Carver lost four grandsons in WWI. They are Basil Carver, Oswald Carver, Geoffrey Hamilton Bagshawe and Harold Carver Barlow. They share their names (Marks) with the other young men on the war memorial, their lives sacrificed for what???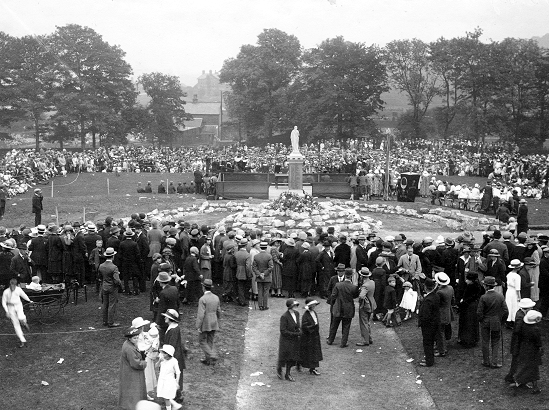 Dedication of Marple War Memorial taken on July 22nd 1922 (unknown photographer)
HOMESPUN: The dictionary definition of this word is "having plain or unsophisticated character" not quite what I had in mind as my choices are far from this description. However, I like the word and it reminded me of my first choice and his spinning mill.
Samuel Oldknow – 1756-1828.
Born at Anderton, Lancs – probably the best known name in Marple today for his muslin manufacture, input into the construction of roads, the canal and lime kilns and, of course Mellor Mill with its apprentices. He had a stone bridge built over the river Goyt from the mill, ignoring the suggestion of an iron bridge patented by Thomas Paine. An opportunity missed there Samuel! He was made High Sheriff of Derbyshire in 1824 – greatly admired and even loved but not successful with money or women.

Famous people are thin on the ground locally but there is one whom we should perhaps class as notorious although through no fault of his own. This is:
John Bradshaw - 1602-1659.
Of Marple Hall (certainly not homespun) who happened to be President of the Council in 1649 and first to sign the death warrant of Charles 1st , later to be posthumously executed.
John Bradshaw died on 31 October 1659, aged 57. He was buried with great honours at Westminster Abbey. The eulogy was given by John Rowe. On his deathbed Bradshaw said that if called upon to try the King again he would be "the first man in England to do it".
George Andrew – 1779-1854
The Andrew family were from Rochdale and George with his sons set up their cotton spinning, printing and dyeing activities in the area we now know as Compstall. Previously there was only a small group of houses known as Becum Fold. Houses for the workers were built and so Compstall came into being. The first local Co-operative Society (founded in Rochdale) was established – the branches in the area known by the name as the Compstall Co-operative Society
Nathaniel Wright – 1762-1818.
Born at Crich, Derbys and was connected with the leasing of collieries at Poynton. Bought Brabyns Hall in 1800 and was responsible for the construction in 1813 of the now famous Iron Bridge. He was a keen horticulturalist, winning gold medals for his forestry planting.
Fanny Marian Hudson - 1852-1941.
The Hudsons were related to Nathaniel Wright. They maintained his tradition of burying their pet dogs in a graveyard in Brabyns Park. Fanny was the niece of Maria Anne Hudson who had inherited the Brabyns Estate from her mother Ann Hudson. Ann was responsible for the building of a new church, St. Martin's, on Brabyns Brow. Like the family before her Fanny was very much involved in community affairs and events. During the First World War the Hall became an auxiliary hospital and convalescent home.
Joel Wainwright –1831-1916,
Company Director Strines Printworks, eminent naturalist / artist who wrote prolifically e.g. Memories of Marple – Pictorial and Descriptive Reminiscences of a Lifetime in Marple.

Ellen Bradshaw Isherwood 1816 - 1890
Nee Ellen Bellairs – married Thomas Bradshaw Isherwood in 1840, squire of Marple Hall. Joel Wainwright tells us that she was mainly instrumental in securing the erection of the new church of All Saints. He says of her "She was a charming correspondent and in every way a model old English Gentlewoman".
Two very different portraits, both on Marple Website - you can take your pick.
Below is a portrait miniature , identified on a label as Mrs Bradshaw Isherwood 1797 – provided by private collector in Texas.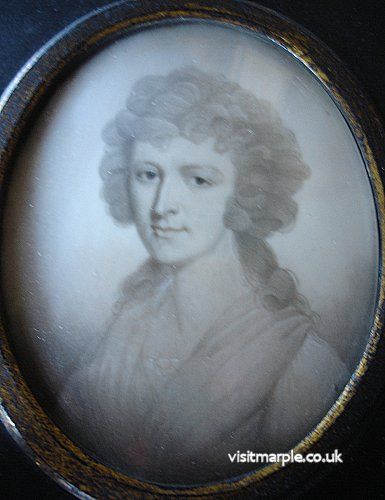 A portrait miniature c1790 by John Barry (fl. 1784-1827, London) of a lady identified--on a label--as "Mrs. Isherwood of Marple." Believed to be Mary, daughter of Thomas Orrel of Mobberley, Cheshire, who married Thomas Isherwood (subsequently Bradshaw-Isherwood) in 1766. Mary was christened at Mobberley in 1744 and died (at Marple?) in 1797.
Click - Portrait - to see the image on the back of which it says "My mother, from J. Bl." However it could be Elizabeth Luce, wife of John Henry and mother of 3rd son, John.
Jack Turnbull –???? -2015
"Last Orders Please" – a very well-known title of Jack's book (1988). What a task he set himself to research the history of the 60-odd local inns and their landlords! Top of his list was The Spring Gardens and its pleasure gardens. It is so difficult to imagine an avenue of gooseberry trees, monkey house, foxes, alligators and more – a major attraction for almost 100 years. Jack updated his book in 2010 but of course there have been many changes and closures since then. I am sure he would be pleased to know that The Northumberland was taken over by the local community to save it from closure.
Gladys Swindells 1907 - 1989
Gladys was the first chairman of Marple Antiquarian Society (now Marple Local History Society). She not only wrote "A History of Marple" in 1974 but was sufficiently interested in talking to and interviewing local people. Out of this came memories of the lives and experiences of local people who were recorded when they were all over 80. A big Mark then to Gladys for this endeavour. The accounts have now been transcribed and can be read. Perhaps we will be able to have the voices on line eventually. These people would not normally have ever been in a position to make recordings but, thanks to Gladys, their voices now live on, making their Mark
An example of a recorded account from Jack Oldfield, who was in the building trade:

"In the winter we used to go round and decorate the farmhouses. We went to Podnor Farm in a bad winter. Mr Furness sent us to decorate it in all different colour washes. Mr Oakden said "Never mind shifting things, decorate round them." There were hams and bacon hanging up and we left them on the ceiling, and never shifted the furniture. Dick Sutton took the farm over and he took a picture of it. "You've never seen nothing like it!"

Tom Oldham – 1910-19??
If you want local memories then Tom Oldham is your man – written, recorded and video memories of his childhood and later years abound. He attended Mellor School during WW1 and describes Top Mellor having no gas, electricity or water at that time. He became very involved in the Local History Society and below is Tom and the photo of his model of Mellor Mill – yet another skill! He sounds like a delightful man!
Mark Whittaker 1958 -

In 1998 Mark established the Marple community website to provide information for local people and visitors. It is kept up-to-date with events and photos, has two sites and a virtual tour with thousands of photos. Not to be missed! A very big Mark for Mark!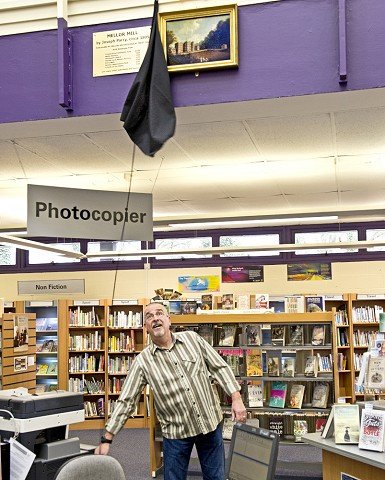 Mark unveils the Parry painting of Mellor in its new location, in Marple Library in 2013.
"In 1997 it came on the market and was eventually bought by Sean White through the initiative of Mark Whittaker. Sean then sold it to the Mellor Archealogical Trust for £3,500" Parry painting of Mellor Mill
Ann Hearle
Ann lived at the old vicarage in Mellor and made her Mark in the drought of 1995 by spotting brown and yellow marks in the lawn which she thought might be the footings of mediaeval buildings. These were confirmed as being so important that trenches were dug in the garden from 1998 to 2000, revealing history and artefacts from the Iron Age onwards. There has been 10,000 years of occupation in this Hillfort. Well done Ann!
This list could continue for a very long time but this can't be allowed so here are a few names in another list who have all made their marks as authors, contributors to local books or in other worthy pursuits – apologies for missing out many other people's favourites.
BOOKS
Hilary Atkinson, Frank Beard, Derek Brumhead, Steve Cliffe, Jean Curtis, Coral Dranfield, Ann Hearle, Anthony Jones, Patricia Linnell, Neil Mullineux, Don Reid, Tony Smith, R E Thelwall, Ron Weston
WORTHY PURSUITS
Martin Cruickshank - Marple Local History Society webmaster, Bill Beard – First skipper of the New Horizons canal trip boat for disabled people, Louise Thistleton – Queen of Omeka, Judith Wilshaw – Tirelessly organising trips for the Society, embellished by her considerable knowledge of the places we visit. John Hearle and Bob Humphrey Taylor - Years of mental and physical work to reveal enough of Mellor Mill to enable the viewers to appreciate what a sight it must have been.
I don't know what Denis would have thought of all these people but I now notice that the Tardis seems to have disappeared so I wonder if he actually stowed away and is now in charge. Being an intelligent Homo Sapiens he could have observed which button to press and be on his way home if he's lucky. WHO knows?
As for us, I think we should sit here for the PRESENT (like Laurie Lee) and see what comes!
Addendum: ILLITERACY
When dealing with people making their marks we know that, until quite recently, signing with a cross was the mark of a person unable to write their name – completely different meaning from the "making One's Mark" which we have been dealing with so far. Evidence from past Birth, Marriage and Death certificates reveals people who were unable to write and so they signed with a cross.
I have had the opportunity to study a set of 44 Mellor marriage certificates dating from 1839 to 1842 with a view to checking how many of the brides and grooms could sign their names. Immediately I had my usual feeling of annoyance to see that I could check the occupation of the groom but this space for the bride was blank. Out of 44 there were 34 grooms able to sign but only 19 brides. The fathers' occupations didn't seem to be significant except that their sons would generally have more access to the outside world with its reading possibilities. Education would eventually become more accessible but not to everyone for quite a time.
Details, including names of people, on the censuses from 1841 to 1901, were filled in by the enumerator but the change in style in the 1911 census required the Head of the household to sign and fill in the form. This must have posed a problem for some and I wonder whether this was deliberately done to test the language skills of these Heads. My great grandfather, Isaac Bennett, aged 69, must have been an example of those caught out, as his son, Vincent, filled in and signed the form in his stead.
Ruth Hargreaves: September 2019