In 1990 the community of Marple celebrated the bicentennial of the building of Samuel Oldknow's Mellor Mill alongside the River Goyt. This record of the fortnight-long event was filmed and produced by local man Tony Sheldon with help from partner and Production Assistant Denise Ambery. At the time 25 copies of the VHS video were made with one copy in Marple Library. This is the on-line premier of this wonderful look back at Marple's History narrated by David Brindley.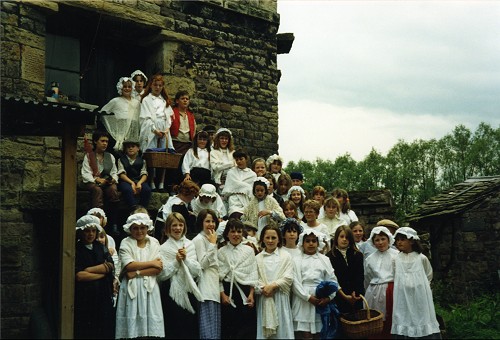 Oldknow's apprentices are photographed outside the apprentice house at Bottoms Hall during the Oldknow 200 Festival.
Oldknow 200 "On Location"
Here's a brief introduction in Tony's own words:
We made this film to record the unique celebration of Marple's history that took place in 1990, 200 years from the date of the building of Oldknow's mill at Bottom's farm. We both worked at Granada Television, and I had acquired a SVHS camcorder. At the time, the mill had not been excavated and so much has changed. The video was edited at home on basic equipment before the advent of domestic digital cameras so the picture quality is not up to current standards, but I hope that it still captures the moment when so many Marple people came together to make an amazing community event.

Tony Sheldon / Denise Ambery October 2020