Fascinating stories from our past can come to light completely by happenstance. A lady called Eileen Pearson posted an old press cutting on the Friends of Brabyns Park Facebook page. By happy chance our member Jackie Collins came across it and drew it to our attention. It was a photo of a veteran car crossing over the Iron Bridge in Brabyns Park but fortunately the press cutting gave a little more detail. It was one of the first cars built by Henry Royce and the picture was taken in 1905. There are four people in the car, two ladies in the front and a lady and a man in the back. The cutting describes them as members of the Hallam family and the man is Bill Hallam who worked for Royce at his Hulme factory. Not a lot to go on but certainly worth investigating.
Bill Hallam was born in Marple in 1884 so he would have been about 21 when the photo was taken. He lived in St Martin's school house and his father, William John, was the schoolmaster there. By 1901 he had left school and was working as an apprentice electrician though still living at home with his parents. However, because of the link with Henry Royce we can make some educated guesses about his career.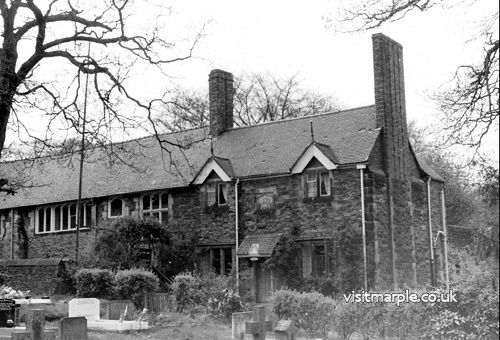 St. Martins School, click for present day view
Long before Henry Royce had his famous meeting with Charles Rolls in the Midland Hotel in Manchester, he had started a partnership making domestic electric fittings in Cooke Street, Hulme. This business prospered and within a decade they were making dynamos and electric cranes. Electric equipment had made great progress throughout the nineteenth century and by the last decades it was being applied right across industry. Henry Royce had served an apprenticeship with the Great Northern Railway and then joined the Electric Light and Power Company so he had a sound training in the technology before he started his own company and was able to follow new developments which interested him. One thing that particularly interested him was the motor car and in 1901 he bought a small De Dion followed the next year by a Decauville. These were not for pleasure motoring; he spent months taking them to pieces and seeing how they worked. Royce was a perfectionist; a trait that would influence every aspect of the cars the company would produce for the next century. His motto was "Strive for perfection in everything we do. Take the best that exists and make it better. When it does not exist, design it. Accept nothing nearly right or good enough".
| | |
| --- | --- |
| | |
| 1901 De Dion | 1902 Decauville |
Neither car met his high standards so he first improved them and then decided to manufacture a car of his own. In September 1903 Royce tested the first Royce engine and by the following April he drove the first prototype, a 10 hp Type A at the Cooke Street factory. The date was April 1st and he knew that he was meeting Charles Rolls the following month. Rolls had started one of Britain's first car dealerships importing Peugeot and Minerva cars but he was interested in any new developments. They met at the Midland Hotel on 4th May 1904 but then went on to the factory in Hulme. By this time Royce had built two more prototypes and Charles Rolls tried them out. Although he had a preference for three or four cylinder cars, Rolls was impressed with this two cylinder Royce Ten and agreed to take all the cars that Royce could produce. The famous partnership was formed.
So what about the prototypes? Of the three cars he had built, Royce kept one for further experiments, gave one to his partner, A.E.Claremont and sold the third to the company director, Henry Edmunds, who had first arranged the meeting with Charles Rolls. The first two cars were registered with local authorities so that they could be driven on the public roads. The first car Royce had built was registered with Cheshire because he lived in Knutsford and was given the number M612. His partner's car was registered in Manchester as N414. Here it is photographed outside the Cooke Street factory.

Prototype 2 of the Royce 10 standing outside the Cooke Street factory
Henry Royce's car, the first one built, was registered with the following details:
M612: 10hp Royce,
Registered: 1904 Aug 26,
Body: Tonneau to seat 2 at back,
Colour: Red,
Weight: Under 1 ton,
Owner: Frederick Henry Royce, Royal Cottage, Legh Road, Knutsford,
Use: Private.
Although the registration does not show this detail, the first production car, based on this prototype, sold for £395, the equivalent of £49,000 now. It had a top speed of 39 mph.
So why was the car seen in Brabyns Park in 1905? Bill Hallam had joined the Royce company as an apprentice electrician when he left school. This was an excellent career choice at that time as it was the key technology to many new fields and the Royce Company in Hulme were acknowledged leaders in this area. It would seem that Bill showed a particular aptitude as he worked with Henry Royce in a small team building the prototypes for the first car and he was trusted by Royce as a key member of the team. When the company moved to Derby in 1908 Bill went with it and he stayed with Rolls-Royce for the whole of his career with the exception of the First World War. When war broke out he joined the Royal Army Service Corps but within a few months he had transferred to the Royal Flying Corps and served with them throughout the war in service and maintenance roles. At the end of the war he married a French girl, Helene Guerre, and returned to Derby where he became the head of the Repair Department.
And why was he in the very first prototype Royce car in 1905 with a group of fashionably dressed ladies? We can only speculate but perhaps Royce had lent him the car for the weekend as a reward for a particular piece of work or to try out a new component. He still lived in Marple at that time with his family in St Martin's schoolhouse. He had an elder sister, Mary, who was about a year older than him and another sister, Alfreda, who was about fourteen when the photo was taken. It is difficult to see from the photo how old the three ladies were (and in any case it is rude to inquire too closely into a lady's age) but it is more than likely that they were Henry's mother and his two sisters. As he had been given permission to take the car home for the weekend, it would be the natural thing to take your family out for a ride.
It is striking to see three women in the car, one of them in the driving seat. True, they could be merely posing for the photograph, but the records show that women were just as enthusiastic as men with this new and novel form of transport. Anyone could drive; a licence was not required, and the early records show that women both owned and drove cars though they would often employ chauffeurs to do the dirty work of starting and maintaining the car.

Museum of Science and Industry: Royce Car Engine [by David Dixon geograph]
The car itself came to a rather ignominious end. It was taken to Derby when the company moved there and used for various purposes around the factory. In 1923 it was decided that it was no longer needed and it was dismantled. There is no record of the other two prototypes either but the engine of one of them can be seen in the Manchester Museum of Science and Industry.
But that is not quite the end of the story. When the original newspaper clipping was posted on the Facebook page a response from Ian Andrew was posted saying 'it is a pity he stole the plans from William Prince of New Mills. The owner of a cycle shop. Not many people know that'. As you can imagine, that immediately raised many more questions so we contacted New Mills LHS. Barry Dent knew of William Prince and even pointed us to pictures of him and his shop but was unable to explain the alleged theft. However, he did introduce us to Kath Prince, his granddaughter. She was very helpful and described the details of his career which shows how he and Henry Royce could have been in close contact with each other.
William Prince was born in Cheetham Hill in 1862, a year before Henry Royce so they were contemporaries. Prince was a cycle manufacturer, initially In Cheetham Hill but by 1901 he was working from Stratford Road in Hulme, close to the Royce company in Cooke Street. At some stage after 1901 but before 1906 William Prince moved to New Mills and continued as a cycle manufacturer from premises in Albion Road.

[from the New Mills Photograhic Archive]
However, he had more strings to his bow. Perhaps influenced by Henry Royce, he designed and built at least one car for the local market. Here he is with a car in Torr Vale Road in 1904. William is the driver, the gentleman in the rear is a local doctor.

[from the New Mills Photograhic Archive]
As part of her family lore Kath Prince grew up being told by her father that William knew Henry Royce and they had business dealings but she never heard any tales about plans or designs being stolen. We have tried to contact Ian Andrew who made the original comment but without success. It would appear that our search ends here but with some tantalising loose ends. Can anyone take it further?
Neil Mullineux, March 2021