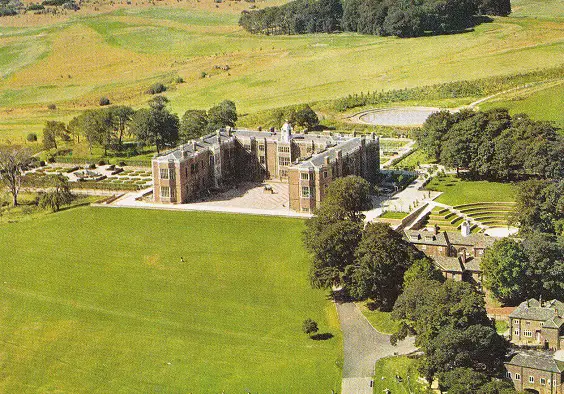 Temple Newsam House
In view of the current prominence of Samuel Oldknow and all his works shown up by 'Revealing Oldknow's Legacy' in Marple, the main focus of our visit was to see the original portrait of Samuel Oldknow as a young man in his yellow trousers, by Joseph Wright of Derby, which is part of the art collection of Leeds City Council and hangs in Temple Newsam House. But having discovered one of the most beautiful churches anywhere with St Wilfrid's in the nearby Leeds suburb of Halton, we started our day there. We were warmly welcomed by members of the congregation who provided much appreciated morning refreshments and then guided us round the wonderful church.
Here are one member's impressions:
St Wilfrid's Church, Halton, Leeds, is a delightful Grade II Listed 20th Century church featuring many 'gems'. Building started on 6th November 1937, when the foundation stone was laid in pouring rain. It was completed just two years later and consecrated in May 1939, coming in at a cost of £11,700. Our thanks must go to architect Alfred Randall Wells for this simple and elegant building in the Arts and Crafts style with modernism influences.
It has a wonderfully light and airy interior, mainly due to large expanses of clear glass within tall stepped lancet windows, which allow light to flood the high vaults and cast shadows on the white plastered walls.
The clean simple lines continue with the fitments. Congregational seating is made up of rows of ash wood and string classic ladder-back chairs which can be turned around so that the congregation can face each other at ceremonies, in particular baptisms, with font with its silver bowl (formerly a punch bowl!) placed, very cleverly, in the centre of the church so that everyone feels involved.
A lively and striking theme was chosen for all the woodwork of the chancel, choir stalls, lectern and pulpit with a design incorporating shuttle and bobbin patterns, giving the nod to the local textile
industry and history, and carved from a rich glowing Columbian pine.
Other notes of interest include the statues, one of St Wilfrid by sculptor Eric Gill, a very religious, but rather controversial man, and one of Our Lady by Irene Foord Kelcey, both very simple, in keeping with the style of the church. In the North Transept poppies from the Tower of London 'River of Poppies' can be found.
St Wilfrids has recently been identified to be unique as having the only entirely wooden spire in the UK, and still retains its original wooden frame, comprising a timber tower gabled on each face, with louvered bell openings and timber shingle cladding.
It is a calming building on the outskirts of a modern, bustling, vibrant and noisy city, where peace and tranquillity can be found.
June Poole
Just after midday we boarded the coach for the short journey to nearby Temple Newsam, where the first priority was lunch in the pleasant café and opportunities for a stroll in the gardens, or a visit to the gift shop, before our guided tour of the house began at 2pm. Sheila Thornton takes up the story.
The first view of the house is from the north west. Walls of brick with grid-like patterns of mullioned and transomed windows are surmounted by an inscription, originally cut in stone letters in 1628, but replaced in metal in 1788.
Temple Newsam estate was first recorded in the Domesday Book of 1086, and the first house was built by Thomas Darcy about 1500-20. After he was beheaded in 1537 for his part in the Pilgrimage of Grace, Henry VIII granted the estate to his niece, the Countess of Lennox, grand-daughter of Mary Tudor and Henry VII. Their son, Lord Darnley, was born and brought up here before his disastrous marriage to Mary Queen of Scots in 1565. Subsequent owners made their own alterations and additions over the generations.
In 1922 the last owner, Lord Halifax, sold the 917 acre park to Leeds City Council for £35,000, and it was then developed as a country house museum of art. Most of the furnishings had been removed or sold, and Lord Halifax returned much of the historic art collection, and furniture and ceramics have been ac
quired from a variety of sources.
With three floors and more than forty rooms to explore, the house is a treasure trove of paintings, furniture, ceramics, silver, textiles and wallpapers, and we really appreciated our guided tour to focus on the best bits, while still allowing time to re-visit rooms at leisure: a rare pleasure in such a splendid country house. Of special interest to our group from Marple was the splendid portrait of Samuel Oldknow as a young man, wearing his yellow trousers, by Joseph Wright of Derby.
To conclude, the inscription forming the balustrade around the roof of the south, west and north wings:
ALL GLORY AND PRAISE BE GIVEN TO GOD THE FATHER THE SON AND THE HOLY GHOST ON HIGH PEACE ON EARTH GOODWILL TO ALL MEN HONOUR AND TRUE ALLEGIANCE TO OUR GRACIOUS KING LOVING AFFECTION AMONGST HIS SUBJECTS HEALTH AND PLENTY BE WITHIN THIS HOUSE
Sheila Thornton
Italic text: Judith Wilshaw
Photos: Bill Beard, David Burridge & Arthur Procter