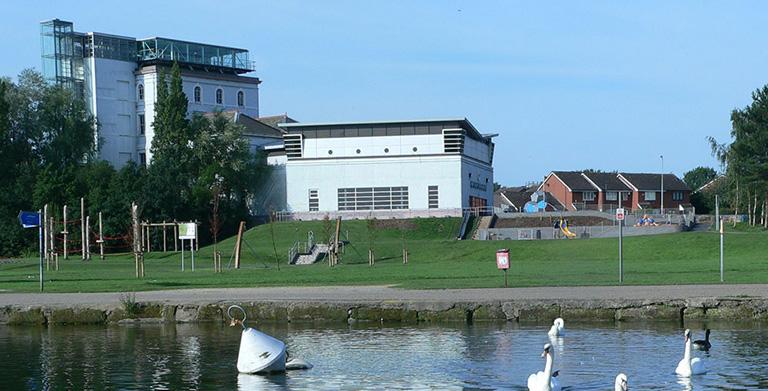 Catalyst Science Discovery Centre (originally The Museum of the Chemical Industry)
After 24 hours of heavy rain the usual pick up points saw people scurrying from their chosen shelter to head on to the coach. The rain had begun to ease as we approached the bridge at Runcorn. A magnificent Cable Stay construction that elegantly straddles the River Mersey linking Runcorn to Widnes, but beware, a toll fee has to be purchased online before crossing the bridge otherwise a hefty fine will be charged. The bridge leads us quite effortlessly on to the site of the Catalyst Museum, an area still surrounded by large areas of ground cleared of past industries. Two hundred years ago, this area was called Woodend. This was before the development of the chemical industry due to its environment being green and verdant. Once the chemical factories and laboratories were established no green spaces were left in Woodend. However today, the region has returned to a something justifying its early name. Woodend was selected in 1847 by John Hutchinson as a good site for a factory producing soda cake as it provided excellent transport opportunities to bring in many of the necessary raw mate
Diane Leitch speaks to the Marple throngrials needed by the industry.
A new education centre was added to the Catalyst museum and opened in 1994. It is the only museum of the Chemical industry in the UK. This region was the ' Northern Power House' of the chemical industry in the 1860's and the centre was developed in the former Gossage's Soap works building. Since its opening it has continued to adapt to visitor needs.
We were met at the museum by Diane Leitch who is a trustee of Catalyst and passionate about sharing the history of the site with visitors. On the day that we visited we were sharing the space with a group of Cub scouts who had had a sleep over in the museum.
Diane showed us around the museum which has a variety of areas to engage its visitors these include a science lab that offers pre booked workshop sessions, a lecture theatre and a hands on experimental area to try out a variety of scientific tasks. The latest exhibit is an Interactive Periodic Table which, for non scientists, is a fantastic resource that is easy to use and brings this basic scientific tool very much alive. It is possibly the only exhibit of its kind in the world.
The afternoon adventure begins.
After an excellent lunch the rain had ceased which enabled a good number of our party to join a very knowledgeable volunteer Guide on a walk around Spike Island. This island was created by the Sankey canal cutting through the land. We learned that 150 years ago there were 30 chemical works in Runcorn and Widnes. They made alkalis, chemicals used in homes and factories around the world. These factories were dangerous places to work in. Many employees had to work in noxious and highly toxic conditions. For every ton of alkali produced, nearly 2 tons of toxic waste was dumped in the areas surrounding the factories. An amazing transformation has taken place and it is now a very pleasant place to wander and take in another look at the elegant bridge. Boats are now moored on the canal and families of swans are clearly thriving in this habitat.
Crossing old technology, with new technology in the background

The final gallery to visit was the observatory. This was built in 1989 on top of the old Gossages building and provides an excellent view of the surrounding area. Visitors are given ipads to walk around which enables them to match up today's scenery with images from the past.
Over the years Catalyst has kept up to date with museum displays and have plans to further update a large section of their museum exhibits.
Our visit to Catalyst proved to be extremely interesting and informative both historically and scientifically. The lunch was tasty too.
The scientists in our group were certainly in their element.
Words: Judy Cooper and Gordon McKay
Photos: Bill Beard, Judy Cooper and Arthur Procter