Shambles Square, The Old Wellington & Sinclairs Oyster Bar
Anne began with an aside - explaining something that has puzzled us for a long time. Green Badge Guides specialise in a particular area whereas Blue Badge Guides cover the north west.
However, Blue or Green, they were all agreed that Manchester was a good place to party. It was ever thus. Edmund Harold, Manchester's Samuel Pepys, described in detail going out on New Year's Eve in 1712 and then went into rather more detail about how he felt the next day. 'Never again'; but the next year he described exactly the same sequence. Will we never learn?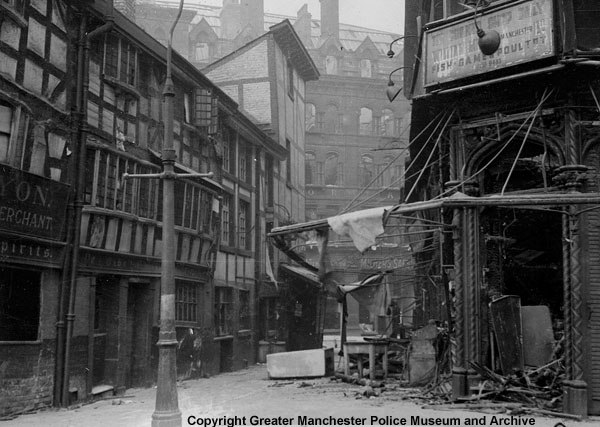 The aftermath of bombing in the ShamblesManchester has a lot of pubs; a lot of very good pubs; and at various points throughout her talk Anne sprinkled it with a series of names (or were they recommendations?) The first two were the famous peripatetic pubs in Shambles Square - the Old Wellington and Sinclair's Oyster House. They both had a fascinating history which is only to be expected of buildings as old as they are. Thanks to the Victorian penchant for tearing down the old, the Luftwaffe and the general wear and tear over the centuries, Manchester has very few timber buildings. However, some enlightened city planners made the most of what we've got by moving these two buildings to a new, more prominent site after the IRA bomb in 1996.
(The image above.)
In the course of her wide-ranging talk Ann introduced us to artists (Hogarth), science (ale is beer without the hops) and politics (the Beerhouse Act of 1830.) This in turn led onto a discussion of pub names. The monarch in 1830 was William IV, hence the number of pubs called William IV and King William. Others were named after trades (Carpenters Arms) or ethnic communities (Shamrock) or local legends (Eagle and Child). One that really surprised us was The Ship at Styal which must be a goo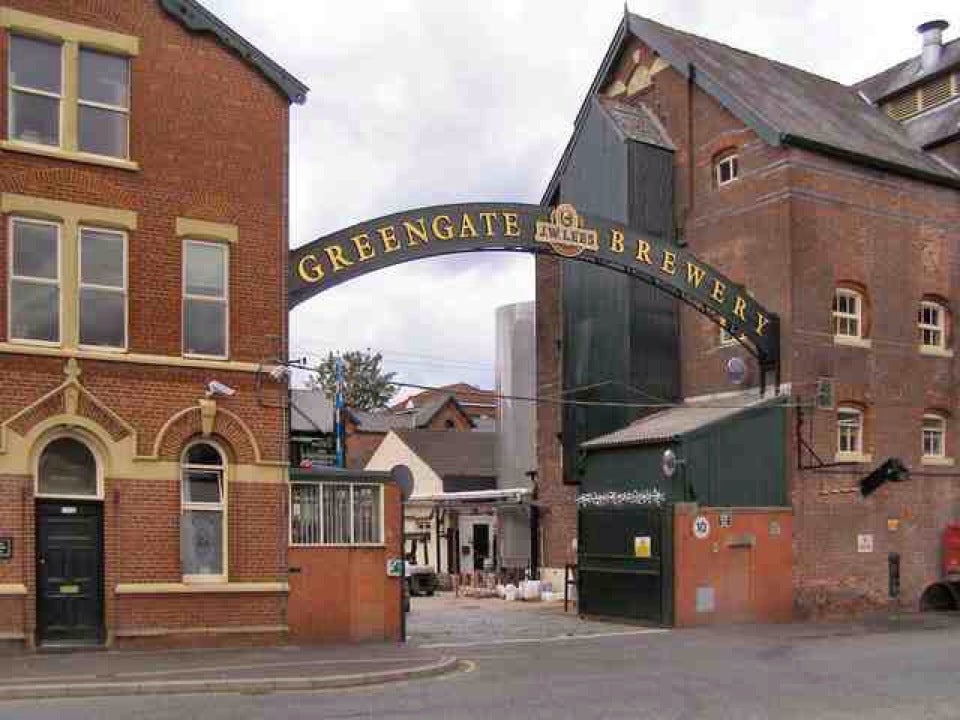 d 25 miles from the sea. However, it turned out that the pub had no nautical heritage whatsoever; it was merely a shortened form of shippon (cow barn).
Talking of pubs naturally led onto talking about brewers and about Manchester brewers in particular. J.W.Lees was established in Middleton in1828. Our own Frederick Robinson started a decade later in 1838 and is still going strong on the same site as the original Unicorn Inn. In 1860 Joseph Holt established his brewery in Cheetham Hill and three years later in 1863 Hydes Brewery was started in Moss Side. However, Boddington's, which can claim to be one of Manchester's most famous products, is no longer associated with the city. It began life in 1778 as Strangeways Brewery but it remained small until Henry Boddington took the company over in 1853 that it began to expand. It established a firm place in local hearts with its distinctive beers and its quirky advertising but that attracted the attention of larger brewers and it was taken over in 1989 by Whitbread. At first the acquisition was a great success, particularly with its 'Cream of Manchester' slogan but after 2000 the combined company was purchased by InBev and its fortunes have dwindled through mismanagement and neglect.
Anne was certainly even-handed because she went on to show the links Manchester had with non-alcoholic drinks and the Temperance Movement. Thomas Henry, a surgeon and apothecary, was a founder and later President of the Manchester Literary and Philosophical Society. However, his real claim to fame was how he built on Joseph Priestley's work by manufacturing sparkling mineral waters. Joseph Livesey was not a Ma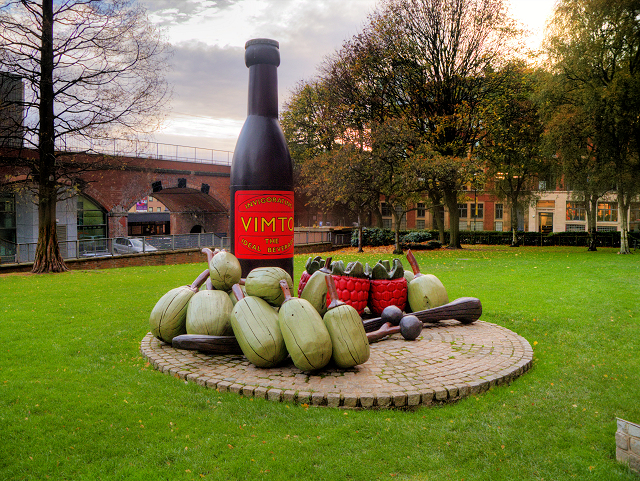 ncunian, he was from Preston, but as the driving force behind the early teetotal movement he was instrumental in encouraging the movement in Manchester where the Salford Unity of Rechabites was founded in 1835. This was a friendly society but other organisations such as the Band of Hope found fertile soil in the Methodist tradition of the area. So much so that the only surviving temperance bar in the country is still operating in Rawtenstall. Admittedly not Manchester, but not very far away.
Manchester made its mark on the Temperance Movement again in 1908 when Vimto was created in Granby Row and there is a wooden statue there to prove it. Originally a health tonic, it was adopted by the Temperance Movement and it is now made in Saudi Arabia under licence. In turn the Temperance Movement made its mark on Manchester. In the 1870s it persuaded the local authority to rename Dog Kennel Lane as Maine Road after the American Maine Law which prohibited the sale of alcohol. No doubt later generations of football fans would be appalled at its origins.
Anne's theme throughout was the links between pubs and the community so it was good to hear in question time that the community plan to develop the Northumberland Arms in Compstall has passed a major milestone. Its initial crowdfunding has succeeded and it is now owned by the community. There is much more to do but the start has been made.
Neil Mullineux - December 2017