'Roman Bridge' so named for 19th century commercial purposes, was built in the 16th century, rejoicing for many years in the name Windy Bottom Bridge.
For her latest talk Judith Wilshaw took on the broad sweep of history, showing how, since ancient times, our infrastructure has changed to suit our requirements and the type of transport available. It was most certainly a broad sweep but she made it more relevant by showing many examples from our locality and from the Peak District.
In pre-Roman times Marple and Mellor were on the boundary between three major tribes - Brigantes in the north, Cornovii in the west and Corieltauvi to the east. The Corieltauvi in particular tried to protect their territory with a series of forts along the boundary in the Peak District - Carl Wark, Mam Tor and Castle Naze near Combs. On a more local scale Mellor had three key points looking out over the Cheshire Plain - Brownlow Barrow, the hill fort where Mellor Church now stands and Shaw Cairn on Cobden Edge. There would have been paths and tracks between these forts and barrows, facilitating movement between them, but there are no traces of these as they were not constructed.
The Romans did things differently. They are well known for building straight roads because a straight line is the shortest distance between two points but their roads were also substantial and soundly constructed. As a result remnants of these can still be found today, two thousand years later. The nearest known existing Roman road to us is Blackstone Edge near Oldham but there would have been some roads much nearer. The road from Mamucium (Manchester) to Aquae Arnemetiae (Buxton) would have passed to the west and south of Werneth Low, somewhere in the region of Marple, and the fort at Ardotalia (Gamesley) is only five miles away.
The pavement of the famous causeway up Blackstone Edge, from the Lancashire Side, taken c. 1990 when still clear of vegetation. Note how the causeway is actually slightly raised above, or in places just level with the modern ground level
However, once the Romans left England there was no central authority and the roads they left behind were given little attention. That does not mean to say they weren't used. Trade gradually built up and commodities such as salt and coal were exported from this region and other commodities such as cheese and woollen goods brought back. Not just Roman roads but other routes were developed, particularly across the Pennines and traces can be found of these in place names as well as physical evidence. Salt routes from Cheshire are indicated by names such as Salter's Well, Salter's Bridge, Salter's Ford etc.
Salt Line Alsager. The Salt Line is now a linear nature trail and cycleway starting near to the Wilbraham Arms in Alsager.
Salt Line Alsager. The Salt Line is now a linear nature trail and cycleway starting near to the Wilbraham Arms in Alsager.Quite substantial loads were carried by the pack horses. A typical load would be 2 cwt or about 100 kilos and there would be a train of perhaps 40 or 50 horses controlled by one man. The routes they took were often marked by landmarks or occasionally posts such as the Stanedge Pole. Packhorse bridges were constructed over difficult streams and were distinguished by low parapets (or none at all) to avoid obstructing the panniers. Apparently our local packhorse bridge - the Roman Bridge - had railings installed by Samuel Oldknow when someone slipped and drowned.
As society became more sophisticated, movement between places grew and the roads and tracks were used increasingly. By Tudor times the state of these byways was very unsatisfactory and various acts were passed from 1555 onwards, obliging the more prominent yeomen and farmers to devote time and labour to keeping roads in good repair. This worked to a limited extent but the response was patchy and little more was done for a century.
In 1675 Charles II commissioned John Ogilby to print road maps of Britain and these set the standard for a long time. They are in the form of strip maps at a scale of one inch to one mile and these maps did much to establish standard measurements across the country. However, they did nothing to improve the roads - that was left to the economic force of capitalism. Turnpike Trusts were bodies set up by Parliament with powers to collect tolls for maintaining sections of roads. A Turnpike Act of 1707 established the principle that investors could be trustees and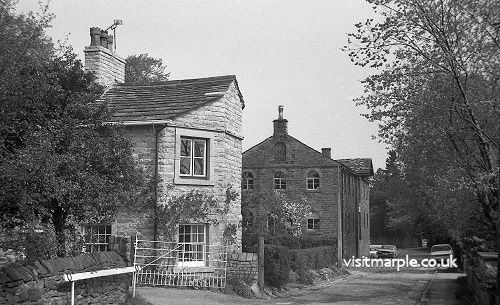 Tollgate Cottage, St Martins' Road, with Oldknow's Warehouse in the background, from the Marple Civic Society Archives, dated 1978the following century saw a great many Turnpikes set up. These too have left relics of their presence across the country with milestones, toll houses and place names such as Hague Bar. The first in our area was Manchester to Buxton following the A6 through Stockport, Bullock Smithy and High Lane. This was opened in 1725 but there were three which served Marple more directly later in the century. In 1792 a turnpike was established from Chapel to Enterclough Bridge with a branch from Hayfield to Marple Bridge. A Stockport to Marple turnpike followed in 1801, going on to New Mills, and then in 1803 a Glossop to Marple Bridge turnpike completed the trio.
Although profitable at first, the proliferation of these turnpikes resulted in many finding it difficult to survive. Some were in direct competition with each other such as ones following either the A6 or the A523, each offering the quickest route to London. However, they led to much better transport and provision for travellers in the establishment of coaching inns and public houses. The proliferation of pubs in High Lane is only one example of the legacy left. The turnpikes became more unpopular and from the late nineteenth century various authorities took over responsibility. Urban Districts, County Councils, Metropolitan Authorities and now the Highways Agency. It has been a long journey from Peak District tracks to the A555.
Finally there is the question posed by a member of the audience - how much would the 40 shilling coach fare from Manchester to London be in current value. Judith's answer was simple - "a lot". Hilary expanded on this succinct reply by explaining that there are various ways of calculating relative values but she normally used the Bank of England inflation calculator. It was not on hand on Monday evening but it turns out that £2.00 in 1822 is the equivalent of about £250 today. Judith was right. It is a lot. But is it such a lot? A First Class train ticket, Manchester to London, for peak time, bought at short notice, costs £196.00 and the journey is infinitely more comfortable and quicker (two hours versus 22 hours) than a stagecoach. Perhaps the lesson to be learned from Judith's sweep through 2000 years of road travel is that we are much quicker than our ancestors and certainly travelling in much more comfort than they did but it still costs much the same.
Neil Mullineux- January 2020
The A555 Manchester Airport Eastern Link Road