Dating from 1752 the mill has been restored from a derelict state by the Brindley Mill Preservation Trust
and is the only known corn mill attributable as the work of James Brindley.
Roy Murphy gave us a wide-ranging talk about James Brindley and the canals which he pioneered. It's nice to think of him as a local boy made good but that is not quite correct. He was born in Tunstead, which is halfway between Whaley Bridge and Chapel, and only about ten miles from Marple, but there is no record of him having anything to do with Marple or Mellor though he must have been to both places. Instead he was more focused on places to the west and the south. He was apprenticed to a millwright near Macclesfield and showed exceptional skill and ability. As the name suggests, the original function of a millwright was to construct and operate mills powered by wind or water, and this developed in scope as the industrial revolution gathered pace.
On finishing his apprenticeship James set up business in Leek and the mill he built is still there to this day, preserved as the Brindley Water Mill and Museum. There he soon established a reputation for ingenuity and skill at both repairing and designing many different types of machinery and he expanded his business to Burslem where he rented work premises from the Wedgewood family. His friendship with Josiah Wedgewood was to influence his later career. His first venture into hydraulic engineering was to build an engine to drain the Wet Earth Colliery at Clifton in Lancashire and it may have been this which attracted the attention of the Duke of Bridgewater. The Duke owned coalmines in Worsley but he was very much a "hands-on" entrepreneur. He had travelled in Europe and seen the Canal du Midi and when the Sankey Cut was built at St Helens he decided to emulate it on his own property. His land agent, John Gilbert, who was also an experienced engineer invited Brindley to advise on particular problems. The overall solution was to build an underground canal at Worsley to drain the workings, joined to a surface canal between Worsley and Salford. Not only did this solution drain the mines but the coal could now be loaded at the same level as it was mined, saving more expense as the coal did not hav
e to be raised to the surface, and the underground drain acted as a reservoir to feed the canal.
Brindley was involved in all stages, including changing the original route, but his most important contribution was to design a crossing for the canal over the River Irwell - the Barton Aqueduct. As a result of Brindley's survey there were no locks on the canal, an important commercial advantage. His plans also minimised the amount of earth moving by developing the principle of contouring. He preferred to use a circuitous route that avoided embankments and opted for tunnels rather than cuttings. This recognised the primitive methods of earth moving at the time but it did mean that his canals were longer than necessary. However, his greatest contribution was the technique of puddling clay to produce a watertight clay-based material for lining canals.
The canal was an instant success, halving the cost of coal in Manchester within a year. Brindley's name was made and, although he was involved in surveying various additions and extensions to this canal, he was asked to consult on a wide variety of projects. Once he had extended the Bridgewater Canal to Runcorn he designed the Trent and Mersey, a wide canal connecting the Midlands with the Mersey and passing through Burslem to serve Josiah Wedgewood's potteries.
Brindley was a visionary, believing that it would be possible to link the four great rivers of England - the Mersey, Trent, Severn and Thames. This was eventually achieved but Brindley did not live to see it completed. He died in 1772 at the age of 56 but with his reputation firmly established. In his lifetime he built 365 miles of canals including the Staffordshire and Worcestershire Canal, the Oxford Canal and the Cov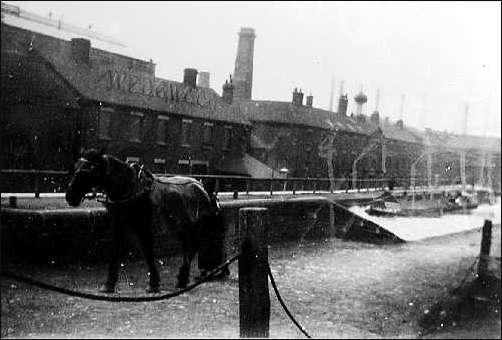 entry Canal. He laid the groundwork for the "Golden Age" of canals with engineers such as Thomas Telford, John Rennie and Benjamin Outram building on his groundwork. To finish Roy gave us a scenic tour of Brindley's achievements, in particular with a fascinating contrast of old and new photographs of the canals. Fifty years ago the urban canals in cities such as Manchester were at their nadir but they are now a key element in urban regeneration. Not bad for something that Brindley started 260 years ago.
Neil Mullineux, October 2019
Wedgwood - Etruria on Trent and Mersey canal
Subsidence in this area can be seen by the low level
of the factory compared with the canal