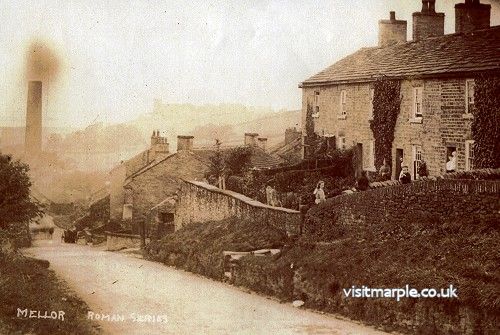 Waller Mill chimney, Mellor Sunday School and Green Doors Cottages at Moor End c1900.
My father's chief leisure occupations were golf and gardening. He made a beautiful garden of our plot at the front of the cottage with immaculate lawn and beds of rose bushes. We had no back garden and there was no space for vegetables. Consequently, about the year 1920, he took over the tenancy of quite a large allotment on some terracing near the Wallers' mill site in Moor End. He worked this with enthusiasm and produced large quantities of fruit and vegetables, much of which he gave away to neighbours. He also planted a large number of rose bushes and took over half of the old mill site where we kept hens. This was a wonderful place to play. Some of the ruined mill buildings were still there, up against the high wall which here must be about 40 feet high as the fourth storey of the ruins was about level with the road. Two or three buttresses leaned against the wall and we could climb up these to dizzy heights. The huge square chimney towered above everything. I had my first ride on a bike down the slope from the mill gates. The bike belonged to Louie and its only brake lever was in a very odd position. The ride ended in complete disaster for I was soon travelling fast and couldn't find the brake lever. The wall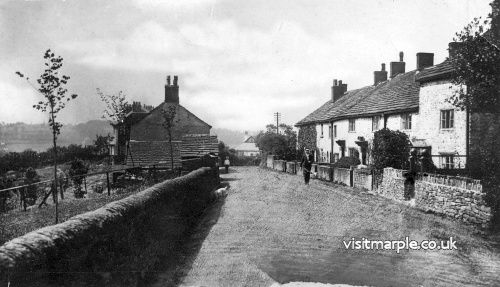 at the bottom was fast approaching and I had to do something quickly. I got a fleeting glimpse of some soft looking vegetation at the side of the track and threw myself off into it but it proved to be a bed of nettles and I got stings as well as bruises.
School Row, Longhurst Lane
A Sunday School was run in the first cottage on the right in the late 1700s, hence the name "School Row"
It was about the turn of the century that house building development started at the bottom end of Longhurst Lane. Before then there were no houses on the main road between Marple Bridge and the Royal Oak Inn and no new ones above. Top Mellor was really an isolated community. My earliest recollections of traffic on the roads were of horse- drawn carts for goods and materials and pony traps for passengers so we played our games on the main road quite safely. Then, after the Great War, motor lorries gradually took over and the first passenger- carrying vehicle appeared. This provided a service between Marple Bridge and the Devonshire Arms and was started by Joe Hinchliffe, a Marple Bridge man. His bus was an ex-army Ford lorry with a box-shaped body, built on the flat lorry deck, and solid rubber tyres. The wooden seats ran front to back and passengers sat facing each other. Illumination was provided by a headlamp bulb dangling on its wire from the roof. The door was right in the centre at the back an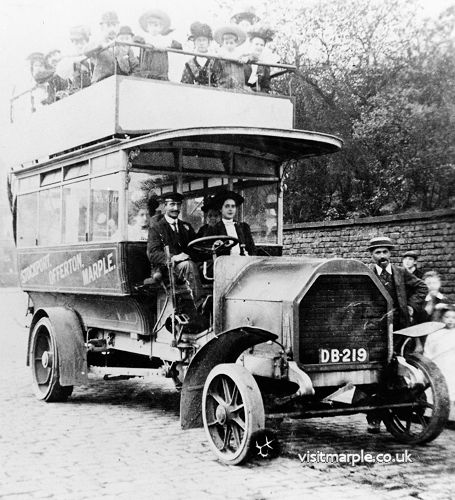 d steps led up to it. A unique feature was a seat for one passenger on the inside of the door. One evening, as the bus crawled up Cataract Brow, heavily loaded and in bottom gear, the door flew open and the unfortunate passenger, on the seat, fell into the road. He wasn't hurt much and he picked himself up, ran after the bus, and climbed back in. Joe, the driver, was unaware of this happening until told about it afterwards.
The first motor bus in Marple on 21 October 1908. Edith Elizabeth Bridge (nee Clayton) sitting and Mr Clayton - bus owner - standing.(note: not Mr Hinchliffe's bus)
To finish my story I must tell you a little more about my good friend, Louie. His family were Catholics and after leaving school he became frustrated, like many others, by the lack of job prospects. He decided to become a priest and went to a College in London. He became ordained and during the Second World War he was a padre with the 8th Army in North Africa and Italy. Afterwards he became a monk at Buckfast Abbey where he developed an artistic talent and eventually created a small department, designing and making stained glass windows. We visited him at Buckfast on one occasion and he has called on us here in Mellor. He visited me about a year ago when he was in this area and we had a good chat about old times. He still finds plenty of amusement in life and I am sure, given the opportunity, would enjoy donging the bell in Mellor Church Tower again.