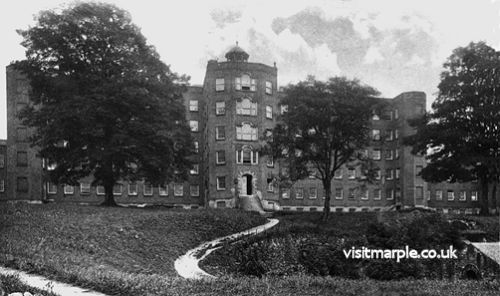 .
A superb photograph of Mellor Mill in it prime.
Transcript from cassette entitled: Mr Schofield
My grandfather came to live in Marple. They were natives of Tideswell and they came to live in Canal Row before the houses were finished off. There were sacks up to the windows, they hadn't glazed them and they came to work at Bottoms Mill, Marple. There was a family came to live next door to them who had a grandfather clock and the ceilings were that low that they couldn't get it in. He didn't know whether to cut a hole in the ceiling and shove it up that way or dig a hole in the floor and drop it in that. He chose the latter and he solved his problem. Then there was another neighbour came to live in the house lower down and he was a mole catcher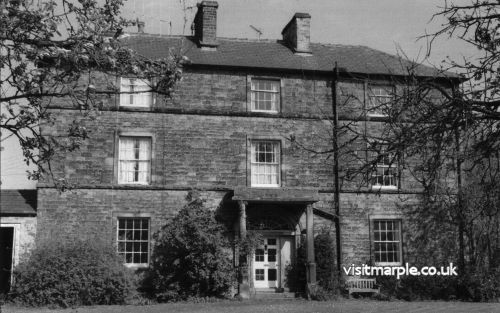 called ol' John Wright. He painted his front door cartwheel red so everybody could tell where he lived. In my boyhood days I used to go and visit my grandparents at Sunday morning. There was also an old aunt lived with them as worked at Bottoms factory in the winding room. She used smoke a clay pipe, sit in a chair in corner and how I longed to have a do at that pipe. The Canal Row ya know were very old houses, the water supply come from pump. There were a well at top of the street there and that's where they got the water, none laid on. They had a garden at front and one or two of 'em kept a pig or two. I think the staircases were stone. They weren't big rooms. They were small and they had old stone sinks in kitchen and the lavatories outside. I don't know whether they run to one a piece. Some of em would have to share.
There were several apprentices married and settled in Marple. They were housed at the Bottoms Hall Farm, (above) there in a room at the top. It was three storeys high, Bottoms Hall Farm, it was one big room at the top and that's where they all slept. Then at Sunday morning they used to go to worship at Marple Church, two by two, and there was a chap, he used to walk at side of 'em with a whip to keep them in order. Of course when Possett Bridge was built it was in bad weather and frost and snow. They wanted to get it opened and they gave them ale posset for warm em up. The tunnel goes down where the horses went, under the road.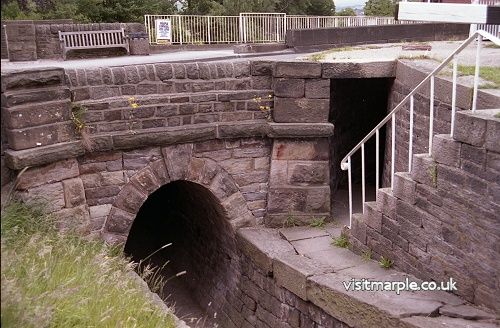 There was a recess in the middle where they could stand in to let the horses pass and there was once a boatman, he stole a side of bacon from Hamsons shop next to the Liberal club. He hid it in that hole and he were duly tried and hung at Knutsford for his crime. After that they used to speak of it as Bacon Hole.
(right: Possett Bridge Horse Tunnel.
From the 1993 Marple Civic Society exhibition of Listed Buildings.
As I remember Brabyns Hall I can remember a peacock strutting about at front of Brabyns Hall. They tell the story that Miss Hudson should have been married to an army colonel and she had peacocks on her wedding dress. She had everything ready for being married, they tell me, she got jilted and it never come off and she used to run a penny bank at manor house and I remember I joined this penny bank.
I used to go every Saturday with my card and me penny and she used to put a star in square. It were full of squares, this card. When I saved sixpence I give notice and drew it out. I wanted to have a beano and I drew this sixpence out and I spent it on sweets. She gave me a lecture on thrift.
Of course Hollins Mill - Thomas Carver, boss there, and he decided that he'd form a band. He bought these instruments and they all worked at Hollins Mill as was in band. They used to practise in a shed up mill yard.
They called it Band shed where all waste used to be put in latter days and they learned a tune. They decided that he'd have a march around Marple and on Saturday afternoon they turned out of the factory yard and swung round to the right. They had a little chap with big drum called Jackie Storey and he were that small he could ne see over the big drum. So band turned up Market Street and Jackie went marching on down Stockport Road when he got to about ….shop where a woman said, " Them gone on Market Street Mister Storey" so he found out he were following an apple cart down, a greengrocers cart down Stockport Road so he ran back and he caught band up again.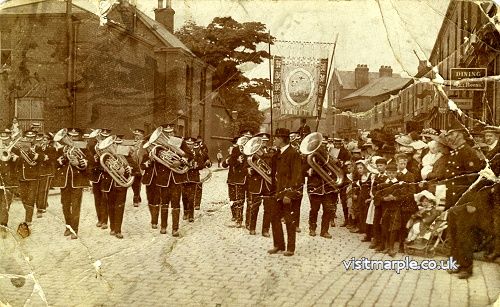 An unknown band march on Stockport Road near Hollins Mill (now The Hollins) looking towards the Navvie
I was put apprentice to painting and decorating and we were doing an empty house at Leigh Avenue. There was an old chap called Charley Ryan come building fire back up and of course at dinner time we had nowhere to sit down so we pulled three drawers out from under cupboard. While we were having us dinner the topic become 'fright' and old Charley said, "I was only feared once in my life" he said, "I get a job mowint churchyard and it were a very hot summer," so he said, "I took my scythe and whet stone up in church yard and I just tried me scythe to see if it would cut" he said, "I notice a grave part open where I would start" and he says, "it were just coming break of day and church clock struck two and old Charley said he heard a voice say "What time is it?" and he said he looked in t'hole and there Long Jack Rowbottom had started opening a grave the night before and got down in it, waiting the daylight coming again, and there he was laying in the th'ole.
For six week every year at spring clean (ed. at Marple Hall) - as you went in the front door. It had studded front door with big iron hinges on and as you stepped inside there were two chaps dressed in armour, one at each side with a big axe. It give me the creeps. You thought he was going to clout ya. Then there was a sedan chair at side of fire and the staircase was all black oak, newel post from first landing. There was another chap there with an armoured suit on and the long corridor with rooms going off. At far end there was a room, they called it the "Chapel," with a four poster bed in and there was another bed. Oliver Cromwell was supposed to have slept in that and it had an inscription at the head "Love God not Money"