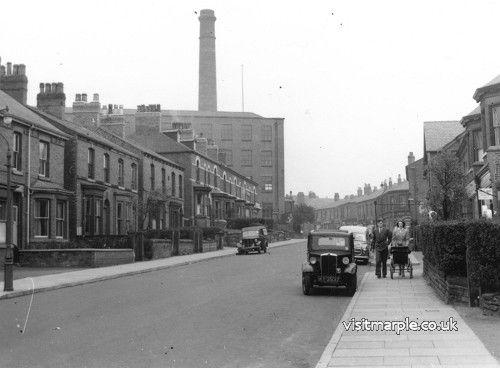 A view of Hollins Mill taken from Stockport Road in 1957 by George Middleton.
Transcript from cassette entitled: Mrs Courtney
Mrs. Courtney made her tape when she was living at Thornsett, but had spent all her life in Marple, and her working life at Hollins Mill.
Voice: Mrs Courtney tells the story of a half timer.
I was one of a large family, thirteen in number, and my earliest remembrance is the cottage meetings in the house, a preacher coming to talk to us and mother making the cake and a cup of tea for the people. The preacher talked to the people and then he read the bible and a prayer. My sister, twenty years older than me, worked at Hollins Mill. She was 8 years old and they had to stand her on a stool, she was so small. If the inspector came round they had to hide her. And what about the other now? My sister was full of humour. She got teased with the boy and she kicked the stool from under him. Then there was the man over there. He annoyed her one day and she let him go down the hoist half way and stopped him until someone else released him. I myself went half-time at work.
What age were you then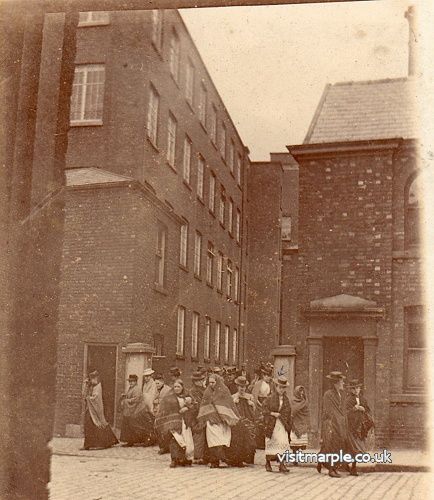 Workers leaving the Hollins Mill via the entrance on Stockport Road around 1890. ?
I think I'd be eleven. Yes, I think I'd be 11 years old and I did half-time in the mornings one week, half-time at school and the alternate weeks half- time in the afternoon. I had 2s. 4d. a week for that and tuppence for sweeping the looms.
And what time did you start?
We started, if it was in the mornings, 6.00 till 12.30, and in the afternoons 1.30 we started, I rather think, till 5.30, four hours anyway. Then I went on full-time to work and I had 4s.8d. a week for that. I never wanted to go in the mill; I wanted to be a teacher at school. Today there are no square pegs in round holes and they can have all the facilities they want today if they will take them. Sometimes, when I look back on my life, I've wished I was in those days when I could just choose what I wanted. I was born 70 years too soon. That's why. Now then, what's the other?
Tell me about your work in the mill.
The work in the mill, I went as a weaver, tenter first and then had a little loom of my own.
What age were you then?
Well, I must have been turned fourteen and, while I was working there, there came an epidemic. They called it the "grippe" and people was taken ill all over the mill. They brought in a bucket of spirits-of-camphor and lump sugars for you to take to ease the pain. First one had to go home and then another until there was hardly anyone working. The doctors were working night and day about it as far as my memory takes me. It must be 65 or 66 since that tim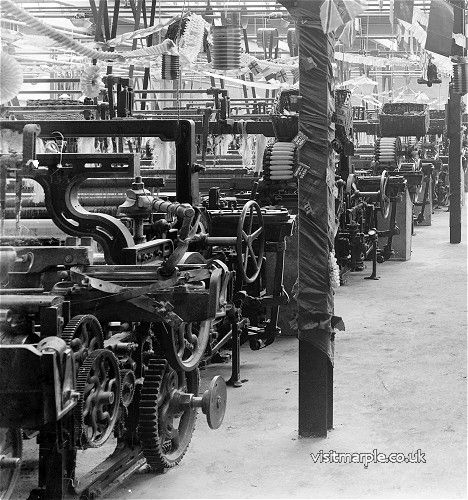 e come. Well, in the mill there was a lot of danger if you did not mind what you was doing. They hadn't the modern things that they have today, cased in and that, and you had to be very, very careful of the straps breaking. Some'll understand that, you know, the straps breaking, because they caused great danger to people. One day, when I was bending over my loom, a shuttle flew out from the neighbour's loom, caught me in the temple and knocked me out.
right: A close-up inside Hollins Mill from a glass slide provided by Alan McDowell.
When it came the Wakes time we had a week's holiday, the first week in August and no pay, nothing at all. We went to our homes, prepared for the Wakes and we entertained one another in the houses. We went to one person's house one day and one another. Generally on the Wednesday we could manage to go to Belle Vue. That was our day's out, you know, that's all. It didn't cost much and the prices at that time were not dear at all. We could get a roast of meat for a shilling, butter was 11d a pound, flour was a shilling a dozen, lard was sixpence, cheese was sixpence, bacon was sixpence and 3d for an ounce of thick twist. I fetched many a half ounce of thick twist for 3 halfpence in my day but today it is different and also times was very hard then. Mother used to have to go out a-washing three or four days a week. Father, to get a few shillings, used to go and carve for the people sometimes in the pubs for the dinnerings that they had. Of course we got a bit of the skeleton of the fowl and some of the trimmings that was left and it made us a good dinner and tea. You see what I mean?
We did enjoy ourselves. We had the simple pleasures at the Grove Wesleyan Chapel. Whit Friday morning we went from there to the canal and on a boat trip to Macclesfield at Whit Friday. Of course the horse took its time. It wasn't a snail's gallop; anyway it just took its time. It took us until about 12.30 t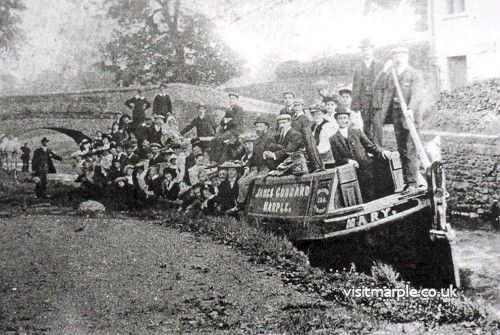 Sunday School Cruise 1905o get to Macclesfield and what a good time we had when we got there. We went in the park on the swings or whatever amusements there were. We had something to eat and then it was time to get back again. I think we set off back about 7.00 as it was light nights and got back about 9 or 10 at Marple. We'd had a good time.
My sisters went to the penny readings at the Chapel and sometimes the book would be Mrs Gardle's, skirting lectures. What fun they had, how they enjoyed it and it was educational as well because some of them did not go to school at all in those days. It was something for us to look forward to. I also went to the Gymnasium that was built by Mr Carver and we went to the lectures there. Mr John Broughton, that lived in Station Road, Marple, he came and gave us lectures on astronomy. How we enjoyed these lectures, it was somewhere to go.

This Gymnasium you speak of is now the Dramatic Society, Carver Institute.
We used to look forward to going to the pleasant Sunday evenings in the Albert School and a Mr Morris used to talk to us. Some of us sung and some recited and we had a very pleasant time. At Christmas time there used to be oranges for us, you see, and nuts or something like that. He gave us all a share and how we enjoyed it.
I used to pass what they called Suttons Farm and someone said it used to be the school which I don't remember. Agnes Lomas, from the farm, she taught me in the day school there and in between I would go up and play around the lime kilns. Then I would watch the boatbuilding in Jinks Yard and what a pleasure it was to see that. Then we would come back and if we'd just a quarter of an hour to spare and a boat was coming through the locks we would get on the cabin and go down with it and come up again. We used to play tick across the locks and often as not it was the woman that had to wind for the boat. They were very strong, these boatwomen, and they wound the paddles. They wound them up and what a joy it was to watch them in their work.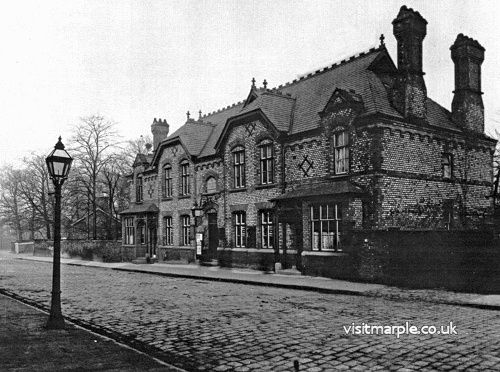 Mr Carver owned the mission there, what is now the cinema, and Mrs Carver was the lady bountiful of Marple. She was a real lady and the mission used to be on the Sunday night. I can remember the preacher, a Mr Nicholson, preaching there and mother took me. It was called then the Union Rooms
right: An early view of the Union Rooms, now the Regent Cinema, before the buildings next door were constructed.
and she took me on a Sunday night and Ruth too, you know, to pass the night out. We had a very, very nice time, singing all the old hymns and one thing and another. We enjoyed it, oh yes. Sometimes the evangelists used to come over from America and speak and how nice it was to hear them. As a girl I used to go and watch the man digging the graves. He was an old Irish wit and he was called Jack Rowbottom. He was digging this grave and I just said to him "Who are they burying?" "O," he said "a chap from Macclesfield. " I said, "What's been the matter?" "O," he said, "e were eatin bad cabbage and the stink of im stopped clock." I did not know where to look when he said that.
At that time they used to walk to the weddings. They couldn't afford a cab or anything like that and I followed one couple one morning when they was going to All Saints. Canon Adams was at the door. They walked up the aisle and the first part of the wedding service had begun when he said, "Who giveth this woman?" He said, "Why, me?"He said, "That's what we come for, we come for being married." I remember Canon Adams stopping the wedding for a minute or two. He was, ya know, well, I don't know what he felt like but it was awful. One of my sisters was in the church at the time and I said, "What do they go in that Vestry for?" She said "They've ham and eggs." "Ee," I said ,"I wish I'd brought my bread , I could've dipped it in."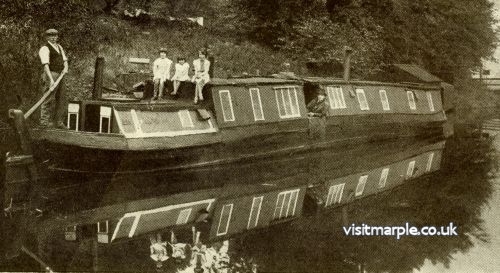 James Goddard and family lived on barge "Mary" on Waterside for 20 years or more.
Goddard and Son had boats on the canal and coming home one night the horse dropped dead on the canal side. Goddard, the son, felt very hungry and went into the cabin. He said, "Who's ate all the food father?" He said, "Me." "Well" he said , "tha's aten corn then tha can pull boat then!"
Thanks must be given to Bill Beard, Ruth Hargreaves and Louise Thistleton for transcribing the memory recordings.
Society Publication:
Hollins Mill
The heart of Marple for over one hundred years.
A history of the mill which epitomised Marple for over a century. It looks at the operation of the mill, how it was managed and the work involved. Just as important, it looks at the workers in the mill over the years and includes memories of some of the people who worked there. The narrative goes on to profile the various owners - who they were, how they managed and what happened to them when they left the mill. Finally it measures the impact the mill and its owners have had on Marple and District both at the time and the legacy that is still with us today. Read More
Author: Ann Hearle.